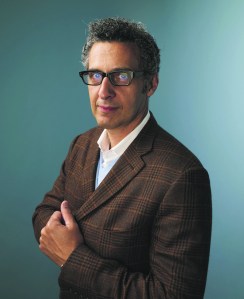 Chintzy by night, Italian steak house Bond 45 is pleasant in the morning. There is no noise but the murmur of waitstaff and the quiet clink of crystal, and it's easy to squint at the mirrored walls and float back in time to Broadway's heyday, when Ziegfield's girls danced on the building's roof. Over an espresso one morning last month, John Turturro seemed like he would have fit in well on old Broadway. Besides his old-fashioned features, which have served him well in many period pieces, he has an artistic optimism that would suit the Eisenhower era. On the eve of his Broadway directorial debut, Mr. Turturro still believes it's possible to do interesting work in the Disneyfied playhouses that ring Times Square.
Mr. Turturro met The Observer at the restaurant to talk about Relatively Speaking, the night of one-act plays by Woody Allen, Elaine May and Ethan Coen that he is directing on Broadway, starting on Oct. 20.
"I actually like one acts," Mr. Turturro said of the format, which may be rampant in drama schools and regional theater but for decades has been practically unheard of on Broadway. "A lot of times, most times, full length plays—they're stretched." He speaks in fractured sentences, skipping nimbly from topic to topic, as though he has too many ideas to dwell on any one of them. After three days of rehearsal, his plan was to direct as lightly as possible.
"My job is to service the play," he said. "There's a connection between these three, but you don't wanna twist it. You want to see how fractured it is."
Mr. Turturro's challenge is to meld the three disparate shorts—one bitter, one dark, one farcical—into something substantial enough that audiences don't mind paying entrée prices for an evening of tapas. If it fails, and the plays come off as overlong sketches, Relatively Speaking could be as painful as  Saturday Night Live. But if it succeeds, it could be one of the most exciting—and profitable—events on the fall calendar
The actor, known in part for his roles in films by director by Ethan Coen and his brother Joel, has been directing theater since his days at Yale drama school in the late '70s and has done several feature films, including 2005's star-studded Romance and Cigarettes. In June he released Passione, a well-received documentary about Neapolitan musicians. He hasn't directed in New York since 2007, when his production of A Spanish Play, by God of Carnage author Yasmina Reza, received lackluster reviews. The critics' complaints were less with his staging, though, than the slack, experimental script, whose overlapping plays within plays seemed more like actorly self-gratification than real storytelling. Mr. Turturro stands by the show. The author, he said, loved it.
"I thought it was a very good production of an experimental play," he said. "It got better and better and better."
Three years ago, Mr. Turturro starred in BAM's production of Beckett's "Endgame," directed by long-time friend Andrei Belgrader, who called him "one of the best of the best of the best in the world." While rehearsing "Endgame," Mr. Belgrader noticed his former student taking an interest in costumes, sets and casting, and saw that he has the vision to be a good director.
"It's a combination of being able to see it from inside, which John obviously does very well," said Mr. Belgrader, "and then the other side, when you have to go up in an airplane and see what's happening from up there and try to move things around."
Mr. Turturro called "Endgame" "a play that doesn't work," and likened the experience to free-climbing a mountain. Compared to that, or A Spanish Play, Relatively Speaking should be a cinch.
"'Endgame' was one of the hardest things I've done," he said. "I wouldn't put this on that level. Woody's thing is more of a sketch." Mr. Allen wouldn't disagree. Earlier this year, he described his one-act "Honeymoon Motel" as "a broad comedy, for laughs. No redeeming social value."
Relatively Speaking came together serendipitously.
Not long ago, Julian Schlossberg, who has produced Elaine May's work for years, found himself wondering what to do with her one act "George Is Dead." After attempts to expand it to a more marketable full length failed, his memory turned to Death Defying Acts, a night of Off-Broadway one acts by Ms. May, Mr. Allen and David Mamet that he made a hit in 1995.
"I called Woody and asked if he had anything that could complement Elaine's play," he said. "He said he had one, and I said fantastic. That's great." Not long after, Mr. Schlossberg saw posters at the Atlantic Theater advertising past productions of Mr. Coen's shorts. Another phone call, to secure his "Talking Cure," and the bill was filled. Broadway is easy when you have the right pals.
"It was very much—without sounding like some kind of bromide—it was a Judy and Mickey thing," he said. "Like, 'Let's put on a show.' It happened effortlessly, which doesn't usually happen."
On paper, an unbeatable combination, but Mr. Schlossberg, who is one of the show's lead producers, remains cautious. "You still have to pray to the theater god," he said. "It has to all come together and gel. I'm not one of these people who say, 'Flash! Bam! Alakazam!' I'm on my knees, shaking!"
And what of compensation? Did these glimmering lights of the Hollywood firmament take a pay cut in order to slum it on Broadway? Mr. Schlossberg declined to give figures, saying only that "everybody was very reasonable."
For Mr. Turturro, working on Broadway means "you can afford a cab," but he stressed that money is not his goal.
"If it runs a long time, great," he said. "For me it's an opportunity to work with Elaine, who's a brilliant woman, and Woody, who I've always admired and I get along with, and Ethan's a friend."
Each producer and writer had veto power over casting, which put the love fest on hold. "When you have three voices plus your producers," said Mr. Schlossberg, "let's say one of us had a lousy experience with an actor, that's the end of that person." Naming a director was even harder. Mr. Turturro was suggested not by Mr. Coen but by Mr. Allen. Though they haven't officially worked together since Mr. Turturro's bit part in Hannah and Her Sisters, the two are in early talks to have him star in, and possibly direct, a future Allen project.
For the sake of ego cushioning, the cast is listed alphabetically. It's studded with names famous from sitcoms and movies of Mr. Allen and Ms. May's golden era, including Marlo Thomas, Steve Guttenberg, Mark Linn-Baker and Julie Kavner, known to some from Rhoda and to others as the voice of Marge Simpson.
Ms. Kavner spoke with The Observer during the city's panicky preamble to Hurricane Irene. She had just made a last-minute purchase of a flashlight from a newsstand. It didn't work. "I run back out, and the guy is pulling the metal thing down," she said. "I say, 'You just sold me this. Give me one that works.' He said, 'Come back Monday.' He wouldn't pull the grate back up. It's been rather a frustrating thing."
Casting Ms. Kavner for "Honeymoon Motel" was a no-brainer. She's worked on several of Mr. Allen's pictures and got her part over the phone. The play, she said, is simple. "The dialogue and the characters are pretty straightforward. I don't think it's a real mystery. I'm playing a middle-aged Jew. What can I say? I'm perfect for the part."
Though familiar with Mr. Turturro's acting, she had not yet met her director when we spoke. Katherine Borowitz, on the other hand, an actor in Mr. Coen's play, knows Mr. Turturro's work well: he has directed her many times since they got married in 1985.
"John's been organizing people and getting them to do what he wanted to do since he was a little kid," she said. "He used to get the kids in his neighborhood together to do backyard productions of movies. He'd play Ben-Hur."
She recalled one early directing effort, when he rallied a group of Yale friends to put on a production in a small Bank Street theater, long since turned into condos. "One of the guys in the cast fainted during the middle of opening night," she said. "It was all very dramatic. He wasn't all right. He was O.K. for a while, but then he died, very young. Let's hope lightning doesn't strike twice that way."
So far, Ms. Borowitz said, rehearsal has been a breeze.
In Ms. May's play, "George Is Dead," a woman played by Lisa Emery deals with a highly needy long-lost friend whose husband has just died. This means unfolding a sofa bed, preparing cheese and crackers and making tea—all while pretending to care about a woman she gave up on long ago. The blocking is giving Ms. Emery a headache.
"I never think of a play as being hard when I read it," she said last week. "I think I'm gonna breeze through it, and then you get to rehearsal and realize you're the worst actor ever I can't walk and talk and make tea at the same time."
To coach her through this "tough patch," Mr. Turturro has told Ms. Emery and her co-star, Ms. Thomas, to slow down. "Suddenly you feel like you can breathe," said Ms. Emery. "He doesn't expect fireworks. It's a rare and beautiful thing."
"I'm not a director, so I don't know," said Mr. Schlossberg, "but everything John's doing is exciting to me.
"I have great expectations, as Charles Dickens might say. We're still in the painful process of putting it all together. It really is like giving birth, though as a male I'll never know what that's like. But from what I've read, this is what it's like."
Again and again, Mr. Turturro returned to "Endgame." "Beckett's an interesting guy," he said, "because in order to get Beckett you have to understand failure. Because he wasn't successful until late in his career. People who are too successful, they can't do it. They don't understand it."
When this play opens next month, the dream team backing Mr. Turturro will expect him to have left the idea of failure far behind.
editorial@observer.com