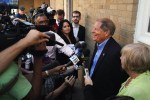 A palpable dread hung over the Democratic Party for the past week. They had lost a Congressional seat that has been in their hands since Warren G. Harding was president. Much of the reason had to do with Bill O'Reilly. Not thatBill O'Reilly, the Fox News guy, but the one that local Republicans refer to as "our Bill O'Reilly," a genial Silk Stocking scion of conservative royalty. He was the mouthpiece for Bob Turner's upstart campaign and the strategist who may have given the G.O.P. a template for how to end their electoral drought in New York State—and just maybe re-take the White House in 2012.
"I have rarely dealt with someone who gets it as thoroughly as he does, who stays on message and gets me and my style," Mr. Turner told The Observer. "I am thrilled with the guy! I mean thrilled! Most of the time you want to kill these people."
In a series of canny moves, Mr. O'Reilly took a race that seemed like a formality for the Democrat David Weprin, and pulled off an upset with national implications.
When Mr. Turner's Democratic opponent, Assemblyman David Weprin, a longtime politician with multi-generational family ties to the district decided to skip out on a debate in the closing weeks of the race—saying that Hurricane Irene had irrevocably disrupted his schedule—it was Mr. O'Reilly who came up with the idea of sending a campaign volunteer to drive the distance between Mr. Weprin's office and the debate site. The trip, Mr. O'Reilly gleefully pointed out, was just a few minutes door-to-door, and that the coast was clear.
"Our intrepid volunteer braved sunny skies and clear roadways this afternoon," read the press release, "to chart the course between Mr. Weprin's headquarters in Forest Hills and the site of tonight's debate in Middle Village," he wrote. "What he discovered is that, indeed, the 22-minute trip can be made, if one is willing to brave two turns and several traffic lights. Now that he knows the route, our volunteer is offering to pick up and drop off Mr. Weprin this evening—so Mr. Weprin can no longer say he can't get there."
It was Mr. O'Reilly too, who came up with the idea of then trailing Mr. Weprin at his public events with duck hunting whistles (Ducking. Get it?). It was also him who offered a $1,000 reward for anyone who could decipher Mr. Weprin's position on the Palestinian Authority, after he muddled through a question about whether or not the U.S. government should give them aid. And it was his idea to pass out subway maps to Obama for America organizers when they came to volunteer on the campaign—maps that helpfully pointed out that if they made it to David Weprin's house, they were officially lost, since he didn't live in the district.
"You need to run against them like your life depends on it," Mr. O'Reilly said. "You have to do it like a wild animal. You can't do these half-assed campaigns. They are going to hold on to it with everything they've got. Anything less and you are not going to come close to winning."
Indeed, no one would call the Turner campaign half-assed. "He had this ability to turn non-events into events," Mr. Turner said a few days after being sworn in the as the newest representative from the 9th congressional district.
Mr. O'Reilly is a member of what may be the First Family of conservative politics. His full name is William F. Buckley O'Reilly, as in that William F. Buckley, his uncle and the founder of the National Review. Another uncle, Jim Buckley, is the only member of the Conservative Party of New York to have been elected to the U.S. Senate. His mother, Maureen Buckley, spent many years working at the National Review, handling phone calls from irate subscribers.
Mr. O'Reilly said he has eschewed mention of his pedigree."I have been very cautious to keep this relationship under the radar," he said. "I wanted to make sure I wasn't a total embarrassment or flop or something."
His mother died of a brain hemmorage while feeding an 11-month-old Mr. O'Reilly, and as a teenager, he bounced around three different prep schools in Manhattan and Westchester, eventually spending three years at DayTop Village, a drug rehab center. After getting straight, he became the face of the institution, travelling around the country to warn of the dangers of drugs, making speeches alongside Nancy Reagan in the 1980 presidential campaign.
After graduating from N.Y.U, Mr. O'Reilly tried his hand at journalism, getting an enviable posting at a local paper on Tortola in the British Virgin Islands.
"I absolutely sucked at it," he remembered. "I couldn't ask the questions. I didn't want people to dislike me."
He quit after his editor sent him to interview the bridge of a man who had shot himself in the head on his boat 48 hours after his wedding. Mr. O'Reilly walked six times around the block and told his editor that the widow declined to talk to him.