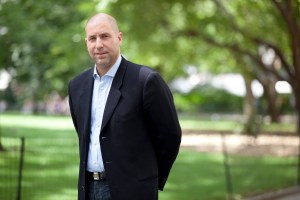 In its heyday, the manufacturing plant in Garden City, Long Island, housed laboratories for DuPont Pharmaceuticals before it went on to harbor chemists with a competing drug maker, Bristol Myers Squibb. But by 2004, the 188,500-square-foot complex of two buildings on Stewart Avenue and Endo Boulevard—a street named for the pharmaceutical firm that originally occupied the plant in 1964—had become a casualty of new compliancy standards by the F.D.A. In other words, the cost of upgrading the complex to conform was no longer in the best interest of the owner or even Bristol Myers Squibb, which relocated.
Enter Joe Farkas, a former CB Richard Ellis broker who, as president of the Jericho-based Metropolitan Realty Associates, has mined real estate gold from older assets, like the Garden City site, that have outlived their original use.
In a partnership with Angelo, Gordon, the firm acquired the six-story slab of concrete in 2005 for $7.4 million and quickly went to work on renovations. In a short time, the building, so closely associated with the pharmaceutical industry, had been converted into a multitenanted office asset with a combination of showrooms, offices and even a few leftover laboratories.
The $15 million renovation bid netted tenants like the kitchenware purveyor Lifetime Brands, which leased about 140,000 square feet at the 161,000-square-foot Stewart Avenue building, and Nassau Community College, which inked a transaction for all 27,000 feet of space at the Endo Boulevard asset.
While the purchase was initially seen as a tremendous risk, this summer Mr. Farkas silenced any doubt after his partnership sold the complex to David Werner and the privately owned Carlton Associates to the tune of $39 million—the highest sum paid for a commercial property on Long Island this year.
"We first tried to sell those buildings in the summer of 2007—right as the economy was beginning to turn—and we tried again in 2008, and we just ran right into the bankruptcy of Lehman Brothers," Mr. Farkas recalled. "So we went back to the market in the middle of 2010, and, ultimately, we were very successful. We sold the building right before the stock market collapse of a couple weeks ago. Who knows what would have happened if we'd waited."
According to Jack O'Connor, a principal with the Long Island office of Newmark Knight Frank, who counted himself among Mr. Farkas's early doubters, the investment was one that few real estate investors could have navigated so seamlessly. "The guy was a genius," Mr. O'Connor told a community newspaper earlier this summer, referring to Mr. Farkas.
Now, with that record-breaking sale behind him, Mr. Farkas is setting his sights on similar investments in the five boroughs. And to hear it from him, the challenges are notable.
In a widely reported story last month, Metropolitan Realty Associates bought the former Stella D'Oro factory in Kingsbridge, next to the tony Riverdale section of the Bronx, for $18.5 million. Long known for the scent of chocolate-chip cookies that for decades wafted from its factory at 184 West 237th Street, Stella vacated the premises in 2009 following a labor dispute that was chronicled in a HBO special earlier this year and resulted in the loss of about 150 bakery jobs.
"My partner—Adam Schwartz from Angelo, Gordon—happened to drive by that building every day on his way to private school and remembers that scent well," Mr. Farkas said. "I grew up in Queens and didn't go that way—so I didn't have that memory—but there was a lot of nostalgia about that site."
If all goes as planned, he said, the building now standing will soon be demolished and replaced by Riverdale Crossing, a proposed shopping center anchored by a BJ's Wholesale Club. With 117,000 square feet leased to the wholesaler earlier this summer, the project will now hinge on securing a handful of national retailers for a yet-to-be-built, 45,000-square-foot retail strip planned for construction nearby.
"Riverdale is such a unique sector of the Bronx," Mr. Farkas said. "It's so fascinating to see the vacancy rate in any market be at zero. And, in fact, there's such a clamoring for retail in the Riverdale vicinity, it quickly became apparent that a retail center anchored by a wholesale club would be terrific for the neighborhood."
The investment in the Bronx won't be the first time Metropolitan has dealt with BJ's Wholesale Club. Last year, with Angelo, Gordon, it acquired yet another building in Garden City, this one 335,000 square feet. That property too is being transformed into a mixed-use complex, including a 121,000-square-foot BJ's, its largest retailer to sign on. Like several other deals of a similar ilk, Mr. Farkas paid just pennies on the dollar for the building at 711 Stewart Avenue—about $15 million, or $44 per square foot—when it made the investment back in May 2010.
"Our ability to quickly find a high-quality tenant for this space justified our decision to purchase the property and confirmed our belief in its ability to attract quality retailers for the vacant space," said Mr. Farkas shortly after the transaction last year.
THAT SO MANY OF his adaptive reuse projects have been situated in Garden City is not a mere coincidence.
While raised as the middle child in a Fresh Meadows family that had its fair share of real estate professionals, the New York native lives in Garden City with his wife and children. It's hardly a surprise, then, he explained, that he is often privy to when property hits the market in Long Island.
"This isn't like I'm really trying to be a pioneer or whatever," said Mr. Farkas, 45. "I'm looking for well-located sites that have outlived their useful life. To me, that's the key for adaptive reuse. Another way to look at it is I'm looking for busted buildings that can be fixed."
jsederstrom@observer.com