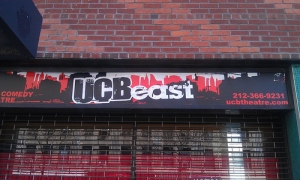 It took two years, but the Upright Citizen's Brigade Theatre has finally opened its long-awaited East Side location. The venue, called UCBEast or The Beast, has suffered numerous setbacks since its conception including liquor license hold-ups, complaints about the sign in front ("Hot Chicks Room," a winking reference to a sketch from the UCB television show)  — and most bizarrely, neighborhood complaints about the theater's red curtains on the windows. (Apparently red curtains scream "Hot Chicks Room" just as much as a sign does.)
Located on Avenue A and 3rd street, UCB East will focus more on stand-up, variety, and one-man shows than the sketch/improv performances likes ASSSCAT UCB is traditionally associated with. Classes will still be taught at the training center on 30th street, though graduates now have two stages on which to become the next Amy Poehler or Donald Glover.
Considering all the comedy nerds in New York, you'd think there would have been a record of UCB East's premiere shows last week, but there's been a surprising lack of coverage of the new theater. In part that may be due to the difficulty in finding out what's playing: the theater just today put up an official schedule, but until today it was up to other comedy blogs to post the show listings.
"I think (UCB) is trying out a soft launch," says Joe Mande when asked about the lack of an opening ceremony for the new theater. Mande is the co-host of Totally JK with Noah Garfinkel, which moved from once a month to a once a week format in its new location. (Thursdays at 9:00 p.m.) "They're opening their doors and hoping for an organic following."
"The verbiage that we're using is 'preview schedule,'" says UCB's Artistic Director Nate Dern. "The grand opening is actually October 29th, and that's when we'll have our UCB four — that's what we call founders Amy Poehler, Matt Besser, Matt Walsh, and Ian Roberts — out for a big celebration."
Mande himself is looking forward to performing in the new space that doesn't involve the arena design of its predecessor.
"This theater, the structure-wise, is really good for stand-up. It made you – and by you I mean me — feel really insecure having people look at you from all directions."
This should be less of a problem at The Beast, which features approximately 140 seats all facing forward, auditorium-style. And as for the curtains and "Hot Girls Room" sign? According to Dern, it was just a matter of bureaucratic red tape: they'll both be back up in time to trumpet the arrival of the new Brigade.