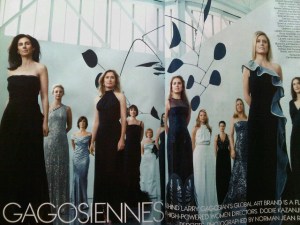 The October issue of Vogue has a big piece about the "Gagosiennes," dealer Larry Gagosian's "fleet of high-powered women directors." The article has not been posted online, but it is available on newsstands now.
To begin with, there is a two page photo of these women standing in Gagosian's mammoth 24th Street branch beneath a large Calder mobile (this is somewhat misleading. Gagosian has done shows of Calder's work, but he is not represented by the gallery; Calder is a part of the stable of Gagosian's major competitor, The Pace Gallery). They are all wearing gowns by the likes of Oscar de la Renta, Yves Saint Laurent and Valentino. Some of them are smiling.
So, you ask, what is a Gagosienne? According to the article:
"To be a Gagosienne, you have to be ambitious, intelligent, well connected, socially adept, highly discreet, reachable at all times, stress-resistant, and mad about art. It also helps to speak several languages and to dress well…and it doesn't hurt to be beautiful and come from an aristocratic family."
Some other things we learned here: Mr. Gagosian claims to have been totally unaware of the fact that his female employees outnumber the men almost two to one.
"'I'm not even aware of it,' he says. 'I guess you're right. But there have always been a lot of talented women in the art world, women who run galleries and museums. Look at Peggy Guggenheim, Ileana Sonnabend, Paula Cooper. It's never been a boys' club, like most corporations.'"
We'll gloss over Mr. Gagosian referring to the art world as a "corporation" in favor of directing you to Ms. Cooper's words to The Observer on the subject of the scene's social geography as a boys' club.
Andrea Crane, who specializes in Impressionist and modern art at Gagosian, had this to say about her boss:
"Larry is totally gender unspecific."
Mr. Gagosian had this to say about the female gender:
"The problem with women is they keep getting pregnant."
(Admittedly, this quote is attributed as being spoken in a "half-joking" tone. It doesn't help, however, that he follows up the statement by saying, "There are all these maternity leaves, one after the other, and it does create a certain amount of tension.")
The article stresses that Mr. Gagosian rewards his employees lavishly for their hardwork, but it also points out some of the absurdities of life on the job. Speaking of Valentina  Castellani, who according to the article is "closer to Larry than anyone else on staff," the reporter recounts:
"She had turned off her BlackBerry for the interview. When we finished and she turned it back on, Larry had called seven times. And when she got back to the office, she learned that he had called her husband to find out where she was."
The conclusion here is: "It sounds a little like the CIA—or a posse of intellectual Bond Girls."
If that's true, is Mr. Gagosian James Bond or Ernst Blofeld?