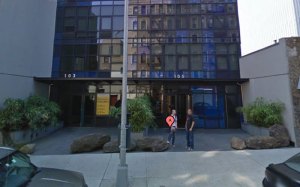 Thierry-Goldberg Projects will open its first show of the fall season tomorrow in a new space at 103 Norfolk Street, at the base of the large blue condominium building on that block.
The move represents a space upgrade for the gallery and they seem to be taking advantage of it with this new exhibit, a group show featuring 19 artists.
The gallery left behind its old space at 5 Rivington Street this spring, the same address where Richard Prince exhibited his infamous Spiritual America, which shows an image of a nude Brooke Shields at age 10, in 1983. Bowery Boogie now reports that a women's clothing store is set to open in the space Thierry-Goldberg has left behind. The tenative name for the store? "Spiritual America." Never change, Lower East Side.