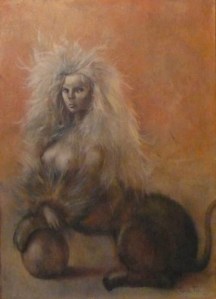 "Oh good," said a tall woman in a beige suit, upon seeing The Observer at the Marianne Boesky opening last night. "I thought I'd be the only one here drenched in sweat."
The 64th street townhouse was packed last night for "Night Scented Stock," a surreal three-story, five-room show curated by Todd Levin that featured creepy offerings by everyone from Matthew Barney to H.R. Geiger — the illustrator best known for designing the alien in Alien. The Observer, admittedly overdressed, was unable to get a checklist due to the crowd, but that actually encouraged exploration in this cabinet of curiosities.
The ground floor offered a single wall jam-packed with twisted paintings and drawings — erotically charged skulls a surprisingly common theme — with a glass case just below it. Across the room there was a single red drape hung floor to ceiling where Mr. Levin, in a striped suit and pink-tinted glasses greeted attendees. We asked about the open book in the glass case, The Narrative of Arthur Gordon Pym of Nantucket by Edgar Allen Poe.
"The story's in five parts," Mr. Levin said. "The introduction on the first ship, then two other ships, then he lands, then there's a coda, and the five galleries trace, in an allegorical way, the story of Pym. It's also a book that's reflected in a Magritte painting so that 's why there's this Magritte here."
Without pause, Mr. Levin pulled the red curtain slightly and revealed a Rene Magritte "Window" painting on the side not facing the room.
"There's all these weird relations that people don't know about," Mr. Levin said, releasing the curtain. "It's this complicated 3-dimensional chess game."
The upper floors were just as odd. Maya Deren on a TV in the fireplace, a Richard Tuttle peeling off the wall next to a live canary (which was not art, according to our post-event-obtained checklist). One room only featured four works, one of them a stuffed albino peacock, another an iPod-sized video of a woman blowing out a candle.
A man in a short-sleeved button-down squinted at John Currin's Dogwood (1997), which features two women who look like they might come from the Little Golden Books for children, except for the fact that they have breasts the size of volleyballs.
"Well, the diversity is nice," the man said to his wife.