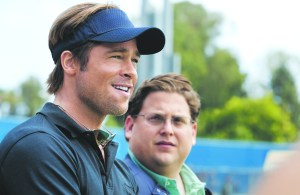 Moneyball (Bennett Miller)
September 23
Scott Rudin, of last year's movie-of-the-fall The Social Network is back with Moneyball, his latest attempt to prove that while a million dollars may be cool, what's really cool is a Best Picture Oscar. The pedigree on this one's impeccable—based on a Michael Lewis book (like The Blind Side!) it intelligently (not like The Blind Side!) looks at the Oakland A's' attempt to surmount their lack of money with a smarty-pants statistics system. (What is it about Mr. Rudin and computer geeks? Even his sports movies are about guys who probably listen to too much Radiohead.) Anyway, this movie stars Brad Pitt and a newly slender Jonah Hill, and is the first outing for director Bennett Miller since his Capote made everyone we know buy a copy of In Cold Blood.
Margaret (Kenneth Lonergan)
September 30
It's been a long eleven years since Kenneth Lonergan's last directorial effort, You Can Count on Me—but the years have probably felt even longer to Mr. Lonergan. The director was reportedly served with lawsuits due to his own inability to finish the film. (The high-powered producing team, including Mr. Rudin and the late Sydney Pollack, apparently couldn't help expedite the process.) Well, as our dear great-aunt used to tell us, haste makes waste—and the years Margaret spent in development hell saw the rise of its lead actress Anna Paquin to superstar status off her role on the TV series True Blood and the continuation of America's love affair with its male lead, Matt Damon. We'll try to focus on the onscreen plot, not the offscreen drama. What's it about, anyhow? Well, Ms. Paquin plays a high-school student (sorry, this was just filmed a long time ago!…)
The Skin I Live In (Pedro Almodóvar)
October 14
Pedro Almodóvar's latest movie goes lowbrow—it's based on a Thierry Jonquet horror novel about plastic surgery! After his previous film Broken Embraces, and its surprisingly sober meditation on the role of fantasy and cinema, The Skin I Live In promises more visceral thrills from the Spanish master. Antonio Banderas stars as a plastic surgeon who's developed a miraculous unburnable skin—and the film has twists and turns, viewers in Cannes reported, that allow Mr. Almodóvar to indulge in the psychosexual madness he does better than anyone. We're excited for Mr. Almodóvar's return to his old preoccupations, but especially for his reunion with Mr. Banderas, with whom he worked in the 1980s. There have been some wilderness years for Mr. Banderas (albeit lucrative ones: the animated Puss in Boots comes out November 4), and perhaps only Mr. Almodovar knows quite what to do with the Andalucian actor.
In Time (Andrew Niccol)
October 28
After the summer during which we fell in love once again with Planet of the Apes comes a fall in which we're expected, it seems, to swallow the concept of Logan's Run. That lovable 1970s schlockfest posited a future in which humans die at 30: in In Time, humans stop aging at 25 and get a set number of remaining days. After his summer, during which he starred in the resolutely unlovable Friends With Benefits and Bad Teacher, star Justin Timberlake's days in the acting game may be numbered as well, but his director here is The Truman Show and Gattaca writer Andrew Niccol, who knows a few things about dystopian futurescapes.
The Rum Diary (Bruce Robinson)
October 28
Hunter S. Thompson's biggest fan finally gets the vanity project that makes all those Pirates of the Caribbean movies seem worthwhile. Johnny Depp, who had previously starred in the Thompson-themed Fear and Loathing in Las Vegas, here plays a Thompson fictional character named Paul Kemp, a journalist who travels to Puerto Rico and drinks a lot of rum (perhaps the Pirates movies were Method preparation in tropical liquor consumption). This film has a storied, awful production process, one that reportedly drove its writer-director, reformed alcoholic Bruce Robinson, to drink. (He says he stopped as soon as work was completed.) We're sorry it was so miserable but are eager to see Mr. Depp here, in something about which he and others were passionate, before the next Pirates of the Caribbean or Burton-by-numbers!
J. Edgar (Clint Eastwood)
November 9
It's been a while since the last Clint Eastwood joint—a whole three years, an uncharacteristic gap for the hyper-productive senior member of the American auteur club. He's teaming up, here, with Leonardo DiCaprio, who plays the longtime FBI honcho J. Edgar Hoover. Sure, the performance will be Mr. DiCaprio's typical glower-and-be-brilliant shtick, but the film's most likely Oscar should be for costumes—we're already imagining the Hoover negligees and nighties! Okay, fine, screenwriter Dustin Lance Black (previously of Milk) has suggested that there's no cross-dressing in this flick, so we should expect a tasteful, elegant, Eastwoodian take on Hoover, though the casting of the rising star Armie Hammer as Hoover's rumored lover gives us hope that there'll be more here than FBI procedure.
Melancholia (Lars von Trier)
November 11
It's time for us to move past Lars von Trier's insane, provocative statements at Cannes this year—not because they were forgivable, but because Mr. von Trier should be judged by the insane, provocative statements he makes in his films. He seems to have done it again with Melancholia, the story of feuding sisters at a wedding (so Bridesmaids!). The wedding gets quite literally eclipsed by an extraplanetary body threatening to destroy Earth—and the film becomes another artful iteration in Mr. von Trier's series of films about women destroyed by unchangeable circumstance. Poor Kirsten Dunst must have had to consult with Mr. von Trier's other leading ladies—Bjork, Nicole Kidman, Emily Watson, and her Melancholia costar Charlotte Gainsbourg among them—to prepare for the apocalypse. It's paying off for the former teenybopper, though: she won Best Actress at Cannes.
Carnage (Roman Polanski)
November 18
The play God of Carnage lit up Broadway in 2009—apparently, bickering helicopter parents are a zeitgeisty subject! (Who would have guessed?) The play depicted two couples meeting up to discuss their children's respective fight at school. It was both mundane and terrifying. Now the master of imputing the everyday with undercurrents of horrific dread, Roman Polanski, puts Brooklyn mommies under the microscope. The prospect's made yet more appealing by the ladies playing the Brooklyn mommies—try imagining Jodie Foster or Kate Winslet doling out organic fruit snacks!—as well as their dear husbands, John C. Reilly and Christoph Waltz. Don't try looking for familiar playgrounds, eagle-eyed Brooklyn viewers: due to Mr. Polanski's longstanding legal troubles, the film was shot in Paris, but the domestic rage is pure outer-borough.
Hugo (Martin Scorsese)
November 23
Martin Scorsese, New York's most New York-y director—well, after the one who made Midnight in Paris—makes the transatlantic trip to the Champs-Élysées. As though the man's long sojourn in Boston-mob cinema weren't betrayal enough! Hugo is a true oddity in the long career of Mr. Scorsese: post-Oscar, he's evidently unburdened by the type of self-consciousness that precludes making a 3-D children's film about a magical toy shop. The film stars Sasha Baron Cohen, Jude Law, and Ben Kingsley as the grown-ups and young Asa Butterfield (all of 14!) as the young Hugo. If this Hugo thing takes off, perhaps Master Butterfield should consult with Daniel Radcliffe about growing up under the spotlight. But we hope it's just a middling hit: Mr. Scorsese needs to come back to New York! The city's conspiracy-minded weirdos won't make films about themselves.
The Descendants (Alexander Payne)
November 23
It's been a while since Alexander Payne graced us with a movie. His sun-dappled ode to Napa oenophilia Sideways was in 2004 (we're not counting his writing work on the gay fantasia on Adam Sandler themes that was I Now Pronounce You Chuck and Larry). The master of small, darkly comic American stories returns with a vacation story we know will warm us up in November—George Clooney in Hawaii! Okay, okay, so it's a tearjerker (Mr. Clooney's character is reconnecting with his daughters after his wife enters a coma).But still! Clooney! Hawaii! We'd take that trip—especially with a guide as able as Mr. Payne at evoking the humor and sadness of the weird corners of the human experience.
ddaddario@observer.com