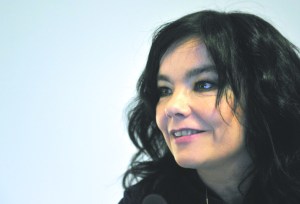 Panic of Girls, Blondie
September 13
The iconic Deborah (not Debbie!) Harry-fronted band is releasing its first album since 2003, and is on-trend with current monster-movie vogues: the first single, "Mother," came with a video depicting zombies coming to life and taking over a dance club. (Vampires are so 2010.) Could Blondie itself be the band of zombies taking over the dance floor? Well, that presumes they'll take over in a music scene glutted with a panic of girl-pop queens (Deborah Harry may have influenced Lady Gaga, but it's the younger diva who runs the world). Whether you see Ms. Harry as a vital part of the pop scene or a reanimated 1980s relic, the nostalgia quotient of putting on this album and pretending the Odeon's still a thing beats downloading a Jay McInerney novel to your Kindle any day.
The Sea of Memories, Bush
September 13
Hey, remember Bush? This album's title may well refer to all that's evoked in the music consumer's mind when first hearing the name "Bush": "Wait, the guys who did "Glycerine"? We remember the mid-1990s, kind of… And where have they been since Gavin Rossdale married Gwen Stefani? Their name has all those political valences, but their music was the soundtrack to our Clinton Administration lost years! The post-grungers set out to discover whether piecing together half-remembered ephemera—"Glycerine" is good, if not exactly a classic on which to build a decades-long career—will bring them the fame they enjoyed before a decade-long hiatus.
Night of Hunters, Tori Amos
September 20
Ms. Amos, at 48, hasn't outgrown the cheeky weirdness for which she was always known—ever reinventing herself, the queen of the concept album is putting out an album on the German classical label Deutsche Grammophon. The new project, per a statement Ms. Amos made to her fans, is a "song cycle" that tells the story of a woman who "goes through an initiation of sorts that leads her to reinvent herself allowing the listener to follow her on a journey." The album's also about how "the hunter and the hunted" exist within every listener. For a listening public used to pop-star "reinventions" comprised entirely of tossing on a new costume, Ms. Amos's adventurism (did anyone see the Tori Amos experiment ending at Grammophon?) is invigorating.
Duets II, Tony Bennett
September 20
Tony Bennett is no fool—you don't stay in-demand at 85 by ignoring current trends. The classic-American-songbook master, who had a late-career renaissance in the 1990s prompted by embracing MTV—is doing the Ray Charles thing. Charles, late in his career, released Genius Loves Company, a not-too-shy-to-brag album that featured popular current artists duetting with the master. Mr. Bennett has followed suit with a second disc of collaborations: his first came out in 2006. This round features suspects usual (Natalie Cole, Norah Jones), unusual (Lady Gaga? What're you doing here?), and tragic (Amy Winehouse's final recording is here—a duet on "Body and Soul").
Biophilia, Bjork
September 27
The Icelandic dynamo has returned to music, albeit not really to the studio: Biophilia is garnering early hype in the same manner as those smeary New Yorker covers. It was created on an iPad! Well, at least in part—and it exists for iPads, too, as each song on the Biophilia app will have its own individual app. We're not Luddites clinging to LPs, but weren't MP3s just… easier? We don't want to have to drag our iPad with us if we want to listen to some Bjork while on the treadmill! Then again, it doesn't quite sound like treadmill music: the album's concerned less with pop music than the music of the spheres, using extended metaphors about dark matter, gravity, and bodies even more celestial than that of a certain gamine Nordic oddball.
The Whole Love, Wilco
September 27
The alternative icons have set up their own label, dBpm, on which they're releasing their eighth album. Freedom seems to agree with them—a "deluxe edition" features a track entitled "I Love My Label." Perhaps they love their label so for the ambition it allows them to uncork: never a bunch of slouches, Wilco's outdone themselves with a seven-minute opening track and a twelve-minute closing. We were wondering what "November Rain" done by Jeff Tweedy might sound like!
Metals, Feist
Oct. 4
The cutie whose "1234" taught everyone how to count to four and showed her how to count to "millions sold" gifts us with a fourth record. It's her first release since breaking out to a sort of fame not achieved by a Canadian chanteuse since Céline Dion, or Anne Murray. And unlike her countrywomen, Feist is cool! Well, cool in the Starbucks-music, Apple-ad sense, which isn't quite cool at all, but the album's first single is a bit edgier and rougher, more Alanis than Céline, and Feist has a gig lined up for November 2 in Brooklyn, which counts for something, coolness-wise!
Mylo Xyloto, Coldplay
October 25
Remember when albums had nice, simple names, like Abbey Road or Born in the U.S.A.? Or even Parachutes? Coldplay has left its pretense-free years long behind with an album whose name is either in an ancient Mayan language or a secret code only Gwyneth Paltrow can solve. Ms. Paltrow's spouse, otherwise known as frontman Chris Martin, keeps his sweetie in crisp white Oxfords with a sure-to-be blockbuster album. Get your handkerchiefs out: tracks are to include "Every Teardrop is a Waterfall," "Hurts Like Heaven," and "Charlie Brown." Cheer up, Coldplay boys! If you're feeling forlorn and misunderstood, be proactive and make your next album title in the English language!
Take Care, Drake
October 25
Another depressive entertainer in the teary-Coldplay mold, Drake, has seemingly little about which to be sad: he's rumored to have dated pop temptress Rihanna and–more pertinently–his rise to legitimate music-industry fame from beginnings as a child actor has been meteoric. But fame has its downsides, and Drake has been loudly ambivalent about all the perks that come with a hit record. His second studio album, Take Care, will only compound the number of fake friends and groupies swarming Drake; it will also very likely cement him as an artist to whom attention must be paid.
Untitled album, Florence + the Machine
November
The hyper-publicized Brit-art-pop of 2010 knows how to strike when the hype is hot: Florence + the Machine, a band whose lead singer, Florence Welch, has become a fashion industry darling, is putting out a second album. It comes on the heels of the omnipresent single "Dog Days Are Over," the official song of chick-flick trailers in fourth-quarter 2010, and while little is known (not even a title or release date!), we're hoping Ms. Welch indulges her loopy, ruffley visual aesthetic this cycle and pushes her yodely vocals: we've listened to Kate Bush's "Wuthering Heights" enough times to know that pop needs a British eccentric.
ddaddario@observer.com