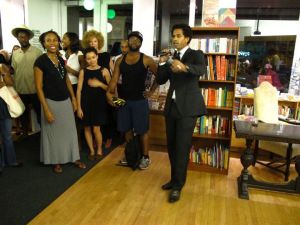 What's in a name? A lot, if it happens to be Touré: not only did the young Rolling Stone writer and MSNBC contributor deliver a passionate takedown of 9/11 coverage on Dylan Ratigan last week, but in the days that followed, he's also managed to a) Start a Twitterversy about what your tipping percent says about you as a person, b) release a book about what it means to be black in today's culture,  c) and announce that he'll be co-authoring Nas' memoir. Last night in Brooklyn's Greenlight bookstore, Touré celebrated the release of his latest book Who's Afraid of Post-Blackness. Hosted by Terry McMillian, the party got hot amidst the crushing fans all trying to squeeze their way into the Forte Greene venue.
MSNBC anchor and occasional Today host Tamron Hall could be found back in the kid's fiction section, wearing a sexy black leather dress that definitely put her ahead of Kathie Lee or Ann Curry in terms of morning show style. Considering all the bodies pressed into the room, wasn't she sweating under the thick material?
"I'm from Texas…anything under 80 degrees and I'm cold," laughed Ms. Hall.
A more recent MSNBC hire and former congressional candidate Krystal Ball was also on hand, discussing her recent move from Virginia to Harlem. Although she wasn't technically sure it was Harlem (maybe just the Upper Upper West side?), but "Touré told me to say it's Harlem to help with my street cred."
Not that she needs any help in that arena. "I grew up having to deal with this name,"  sighed Ms. Ball, whose infamous Christmas photos involving her husband as Rudolph with an X-rated nose effectively squashed her campaign in October 2010 while keeping her in the top Google search terms for the rest of the year.
Not wanting to reopen that can of worms, we asked if this was because she grew up having people asking for tarot card readings.
"No, because it sounds like it belongs on a stripper," said Ms. Ball.
At least she'll never deal with the pain of trying to find a stage name, unlike the artist currently known as Mos Def, who announced last week that he would be changing his own in 2012. Judging from the excited whispers of the crowd when he showed up late to the party, it may take awhile for the new moniker to stick: Not one person mentioned that someone calling himself Yassir Yasiin had suddenly entered a Brooklyn bookstore. Zadie Smith and Miss Info — both of big-name fame — were in attendance, along with artists Julie Mehretu and Sanford Biggers.
Afterwards a small faction moved to the backyard of Stonehome Wine Bar on Lafayette Street, where Prozac Nation and Bitch author Elizabeth Wurtzel was overheard talking about her boyfriend, who wasn't there yet but was coming, oh wait, here he is. Former Rolling Stone writer and Touré's current independent agent Sarah Lazin made the table rounds, pausing long enough to ask if The Observer was mainly a real estate paper now, and  if The Forward had a website (it does) and if its comics are printed in Yiddish (they aren't).
At the end of the night, our waiter added tip to the bill and an extra section for an "extra tip," but we left before we could ask the author on the proper etiquette for the elusive double-tip.
Update:
Touré's diplomatic statement on last night's dinner charge: "I always tip 20 percent."
About the event Touré told us today: "I didn't want to have a traditional book event, I wanted to have a real party. DJ, wine…I wanted it to be fun. I think it worked."