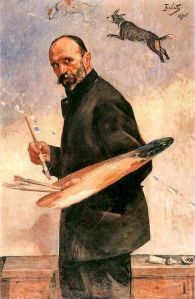 More than 60 years after being plucked from the Polish National Museum by German S.S. commander Benne von Arent, two paintings by the Polish Impressionist Julian Falat are headed back to their homeland.
The U.S. Attorney of the Southern District of New York was scheduled to hand over the two paintings to the Polish government at a ceremony in Manhattan this evening.
The works were seized last year by the U.S. Immigration and Customs Enforcement, after Polish authorities notified their U.S. counterparts that they were coming up for auction in New York. Before then, the location of those pieces, like many works looted by the Nazis, was unknown. At press time, it was not clear who had offered the works for sale.
"No one can ever provide just compensation to the victims of the Nazis' atrocities," Manhattan U.S. Attorney Preet Bharara said in a statement, "but it is very gratifying for our office to play a role in returning the art that they looted during World War II to its rightful owners."