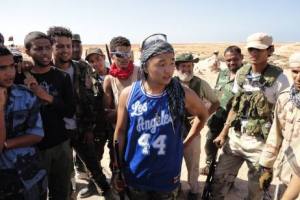 For an end of summer getaway, Chris Jeon, a 21 year-old UCLA math major took a one-way flight to Cairo, a train to Alexandria, and a bunch of buses to eastern Libya, where he's hitched a ride with a group of insurgent soldiers heading west, toward Qaddafi stronghold Sirte, where a climactic battle is expected.
The rebels have given him a keffiya, camouflage pants, and a Russian-made 12-gauge shotgun. They call him Ahmed El Maghrabi Saidi Barga, a mash-up of the names of local tribes and areas.
"When communication invariably reaches an impasse, Jeon merely repeats his name and the rebels erupt in raucous cheers," according to a remarkable National article.