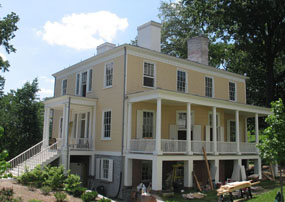 Poor Alexander Hamilton. The only house he ever owned, Hamilton Grange, has been uprooted and moved not once but twice since its original construction in Upper Manhattan. Hopefully this time, however, the first Treasury secretary's home has found a permanent home of its own.
The building, a national landmark, was closed in 2006, and ever so carefully moved to St. Nicholas Park. And, in news that will surely excite the history buffs among you, the Grange is set to reopen Sept. 17, Curbed reported earlier today (via Harlem + Bespoke).
But that's not all! According to the National Parks website, an array of re-opening festivities will take place all day that day, including a live reenactment of Hamilton himself showing what life was like in New York way back in the day. Who will play Aaron Burr, we wonder?
eknutsen@observer.com