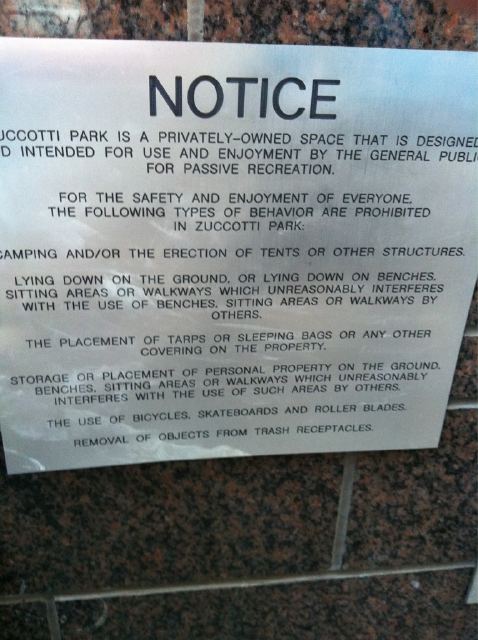 Lower Manhattan's Community Board 1 shot down a resolution designed to expel protesters from Occupy Wall Street from the privately-zoned Liberty Park Plaza on Tuesday night and agreed to meet with a delegation from the group, which has been demonstrating at the plaza since Sept. 17.
Occupy Wall Street member Justin Wedes made a splash at 90 Beekman Street by appearing unscheduled before the board during its monthly full board meeting to report committee news. A resident introduced him to allow for his unscheduled talk.
Apparently it worked.
"We'll meet with leadership … it'll be private," stressed Chairperson Julie Menin.
The protesters certainly have some issues the community board could be instrumental in resolving. The owners of the plaza, which is a privately-owned space zoned for public use, posted signs around the plaza this week decreeing there is to be "no camping and/or the erection of tents and other structures, lying down on the ground or lying down on benches;" as well as a ban on putting down tarps; biking, skating or rollerblading; or removing objects from trash receptacles–all of which have been violated at least once if not many times over during the protest.
Ms. Menin anticipated meeting as early as Sunday and promised progress before Wednesday's Financial District Committee get-together at 6 p.m. in Room 709 at 49-51 Chambers Street.
Requests by Occupy Wall Street organizers are sure to make the agenda. "We'd like to demand the use of tents and tarps if the rain comes," said one spokesman.
Maybe at least they can set up a Sukkah.
Patrick Halliday writes for the Greenpoint Gazette.