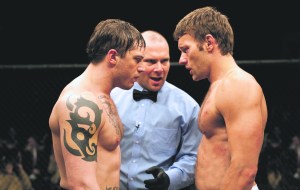 It seems that all you need to land in a movie these days is a gym membership that twists and tortures a normal physique into that of Conan the Barbarian, with six-pack abs, a 28-inch waist and obliques the size of hubcaps. The result is usually a load of two-fisted junk; an exciting, well-made testosterone explosion called Warrior is a rare exception. Director Gavin O'Connor knows his way around a sports arena, and Tom Hardy and Joel Edgerton are two meatheads who can really act.
Playing two brothers who compete against each other for the same purse in a high-stakes mixed martial arts tournament in Atlantic City after being estranged for 14 years, they lend charisma and balance to the far-fetched plot of an otherwise predictable fight movie with such authority and, yes, sensitivity, that they prove irresistible, even to an audience familiar with this kind of stuff. Mr. Hardy, who made an impression in the otherwise incomprehensible Inception, plays Tommy Conlon, the younger brother, a former wrestling prodigy who returns to Pennsylvania from Iraq in unstable condition—an angry, hard-drinking Marine who inherited his violence from the reprobate father (Nick Nolte, putting the ravaged remnants of his once-handsome face to good use) who used to be his trainer before his alcoholism wrecked his family and drove his two sons apart. Joel Edgerton, the Australian hunk who got rave reviews from New York theater critics playing Stanley Kowalski opposite Cate Blanchett in last year's acclaimed production of A Streetcar Named Desire, is Brendan Reardon, the older brother who took his mother's surname. He's now a retired boxer-turned-respectable Philadelphia schoolteacher with a wife and two kids, a daughter struggling with a heart defect, a mortgage default, a school board that suspends him without pay for going back into the ring, and endless money problems. Tommy's unstoppable demons (he went AWOL after friendly fire that killed his best friend) and Brendan's need to save his family from financial disaster lead the brothers to compete in the Sparta tournament, the Super Bowl of winner-take-all fights with a five-million-dollar jackpot. Their opponents include Olympic gold medalists and undefeated champions throughout the world, so the odds against them are overwhelming, but there can only be one winner, and the outcome is no surprise. Between the brawn and the broken bones, the film builds character among the brothers who need reconciliation, the father who seeks redemption, and a shattered family legacy that craves strength through bonding.
This territory has been traveled before in everything from Champion and The Set-Up to Rocky and The Cinderella Man, but in Gavin O'Connor's direction and pungent screenplay the melodramatics are integral, the pace and timing never slow, and the big fight action in the cage contains some of the best staged combat sequences I've ever seen. The final bloody showdown between brothers is so relentless it seems to be happening in real time, and the circling camera is as much a part of the last round as a mouth guard or a rabbit punch. I was impressed by the technical proficiency, but I also found some of the show-business choices worth noting: Tommy swaggers aggressively through the mob to massive chants and cheers by a Marine choir, while Brendan enters the ring to Beethoven's Ninth Symphony. Rarely have two actors endured so much savage punishment on-screen, and they still manage to become real and three-dimensional people who are more than just punching bags. Skillfully made and adrenalin-fueled, Warrior is nothing like what I expected. It overcomes inescapable boxing and martial arts clichés and leaves you thoroughly sated, energized and wanting more.
rreed@observer.com
WARRIOR
Running Time 139 minutes
Written by Gavin O'Connor, Anthony Tambakis and Cliff Dorfman
Directed by Gavin O'Connor
Starring Tom Hardy, Nick Nolte and Joel Edgerton
3/4