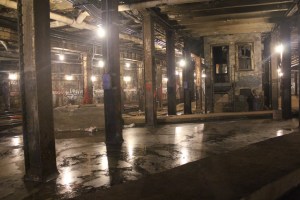 Last week, New York magazine revealed James Ramsey and Dan Barasch's plans to create a subterranean green space in the abandoned Williamsburg Trolley Station under Delancey Street. The pictures that Mr. Ramsey and Mr. Barsch (a former NASA engineer and a PopTech executive with a background in non-profit social design and government work, respectively) produced for the article were futuristic wonderlands, like Japanese illustrations inspired by Ray Bradbury.
But the reality is not so fanciful: The proposed "Low Line" project would transform the approximate 600 x 100 square feet area that lay across from the Brooklyn-bound JMZ-line into an organic public space that would be three quarters the size of Gramercy Park. It will cost millions of dollars in private funding, and will need the support of a community that has spent forty years fighting with another environmental group over approximately the same space above ground.
"About three years ago, I was working on the channeling and redirection of sunlight" in mainly urban settings, Mr. Ramsey told the New York Observer while sitting in the RAAD offices on Christye street, only several blocks away from the proposed Delancey Underground project. "I was also working with a former engineer of the MTA, and he started telling me all these crazy stories about his time working in the 70's. The city was at its rock bottom, and they were starting to discover all these weird underground spaces.
"There's something like 13 acres of unused underground space underneath New York…A lot of what we're trying to do is thematically similar to rediscovering these lost spaces," Mr. Ramsey told us.
"The really crazy thing is that the MTA has only given two guided tours down to the space underneath Essex Market (where part of the Low Line space would exist), and what we saw down there was startling. It's not a very safe place to go right now."
When we brought up our issue with the displacement of New York's legendary Mole People, Mr. Ramsey concurred, "I think it's safe to say that in the past sixty years, there have definitely been Mole People living there. There's graffiti everywhere, and it didn't make itself. It has a little bit of that feeling of Werner Herzog's Cave of Forgotten Dreams."
If you needed any more evidence of the existence of an underground community, the tiny house that stands with a door and windows smack dab in the middle of the Low Line's proposed space can be seen if one squints hard enough into the darkness across the JMZ's platform.
But Mole People displacement is the least of the Low Line's worries. First, the RAAD team will have to convince the community of Delancey Street that more construction is needed in the area. This might be particularly hard to do considering the neighborhood's history: the equally environmentally-ambitious SPURA (Seward Park Urban Renewal Area) Project has spent fifty-some years in community meetings trying to come upwith a plan on what to do with their space. Since the proposed Low Line is literally across the street from SPURA, it is handled by the same community board, C.B. 3, leading to a whole bunch of cold feet, red tape and lack of public funding for the project.
"It's a very delicate balance," Mr. Barasch tells us, "and we don't want to disrupt the consensus that they (SPURA, city officials, and the community still living in the tenement hold-outs that haven't been destroyed by LES' parking lots) "have only recently come to."
Last week, Mr. Ramsey and Mr. Barasch showed their proposal to the C.B. 3, and though they say the community board was receptive, they've basically been told that unlike their friends at the High Line, they will receive no public funding whatsoever. Hopefully that is where Mr. Barasch's knowledge in NYC non-profits and public sector will come in to raise private donors.
"You have to remember that when the High Line was conceived, the situation was different than it is now," says Mr. Barasch. "The recession hadn't hit, and it was right after 9/11, when the city was looking to put money in an urban renewal project." But the High Line was funded mainly with the help of private donors, and the RAAD group remains hopeful that these early research stages will lead them in the same direction.
"New York has fifty percent less green space than any other major urban city, and the Lower East Side has the least eco-friendly space in all of the Manhattan. Our objective right now is to start a dialogue with community to get them interested in turning this  abandoned space into a green area, while still honoring the history of the place," says Mr. Ramsey.
Already, they've altered their original illustrations to better reflect the space they saw on the tour. "We made it way less day-glow," said Mr. Ramsey. A good first step, for sure.