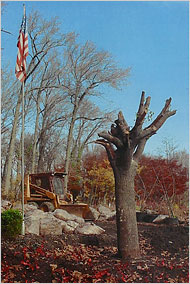 A week after 9/11, Bram Gunther, the head of forestry for the Parks Department, was dispatched to Ground Zero to survey the ecological effects of the attack. What he found resembled a volcanic blast zone: an ashen, smoking moonscape of dust and debris. Amid the rubble, he and his co-worker, Michael Browne, discovered a burnt, decapitated Callery Pear tree "sort of soldered in between the cracks of the cement at the World Trade Center."
Mr. Browne wanted to rehab it, to restore the arboreal casualty to health, but Mr. Gunther was pessimistic. "The damage to that tree," he explains, "in those circumstance, any arborist, any forester, is going to leave a tree like that alone."
And not just because it was damaged. The Callery Pear does not at first glance seem like a species worth enshrining. Unlike the regal, centenarian American Elm "Survivor Tree" that was recovered from the ruins of the bombed federal building in Oklahoma City, the Ground Zero specimen is a runty, fragile overseas transplant, with a pungent fish-like odor. Nevertheless, it does have its charm.
"Callery Pears are a paradox," Mr. Gunther explained. "They are incredibly urban tolerant, fast growing trees in harsh conditions, which is why they populate the city so much. And they have beautiful white flowers. However, they are short-lived, and they are weakly structured. So after 20, 25 years, they tend to die off."
The Callery was nevertheless chiseled out of the concrete and trucked to Citywide Nursery in the Bronx, where it was pruned, watered, and medicated with a root bio-stimulant for nine years before being replanted in the 9/11 Memorial Plaza last December. It has become a surprisingly resonant symbol of both the city's and the nation's recovery; after the death of Osama Bin Laden, President Obama chose to lay a patriotic-hued wreath at its base.
For Richie Cabo, director of the Citywide nursery, the Callery has a more personal significance. Mr. Cabo came to work at the nursery in the spring of 2001 after being shot in the line of duty as a corrections officer at the Green Haven maximum security prison, in Dutchess County. For many months, he healed alongside the mangled tree. "When the tree was leaving, it felt kind of sad, although I was glad it was going back," he said. "You felt like your kid just moved out of the house or something."
Mr. Cabo worries about the tree's future; it is already showing signs of rot. So he has developed a Plan B: a row of seven waist-high saplings, each grown from six-inch cuttings off the mother tree.
The word "mother" can be misleading, though. The saplings are not offspring. They're clones—exact genetic duplicates of the original. In theory, ten years from now, the Survival Tree can just replace itself.
The one thing that would be missing, Mr. Cabo points out, are the scars.
-editorial@observer.com