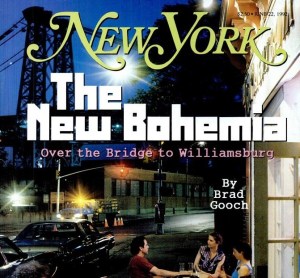 "It's like a working-class hick town," the artist Collier Schorr said of Williamsburg, in a 1992 New York piece on the neighborhood, which was handsomely titled "The New Bohemia."
Of course, a lot has changed over the past 20 years.
James Kalm, a pseudonym of painter Loren Munk, puts it simply in this month's issue of The Brooklyn Rail: "Williamsburg is over."
Mr. Kalm, who has made a name for himself as an indefatigable chronicler of the New York art scene for years, explains:
"[O]ne might say Williamsburg died quietly in its sleep, the victim of age, ennui, and unrestricted developers, without ever reaching its hoped-for potential."
Williamsburg has not become a thriving cultural capital, Mr. Kalm argues, because it never received the major institutional support that some other neighborhoods–namely Long Island City–did. And though a few major Chelsea dealers operated in the neighborhood for a brief time (he cites Jeffrey Deitch and Leo Koenig), they didn't stick around. The writer once more:
"There's certainly a set of Darwinian survival skills bred into the artists and galleries spawned here, but until serious commitments are made in a community's viability (both financial and moral), its wider cultural significance will remain questionable."
It just so happens that Mr. Munk is showing a number of his reliably enjoyable paintings about the history of the New York art world tonight at Lesley Heller Workspace, a gallery that is located on the Lower East Side.