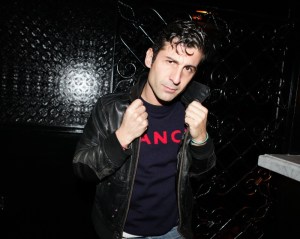 It's almost Fashion Week, which means that French nightlife savant and savior should be opening his much-delayed sin den Le Baron any day now. Um, what! We haven't heard of a single after party booked at the would-be venue in Chinatown. And so the wait continues.
In the meantime, Mr. Saraiva's been relaxing in France with lovely arm candy Annabelle Dexter-Jones. Sometimes, Olivier Zahm takes pictures of them. Good thing, then, that Mr. Saraiva took time out of his schedule to chat up AnOther magazine about the deeper side of fashion.
Would you describe fashion as a language and a discourse, as Barthes did it?
I didn't know Barthes had written about fashion until I passed in front of this old bookstore recently where I saw The Fashion System in the window. To be honest I haven't read it yet… Yes, it is definitely a language for some people, for example like the Hells Angels or hippies use fashion to show they are part of a group. But for others it is just an alternative to being naked.

The word "intellectual" was coined in a time of great political distress. Does fashion have a political role? And in which way?
If you look around at all the extreme groups, from Hitler and his troups to skinheads, or the Black Panthers, all have strong political ideas and a striking appearance.

How would you relate the concept of fashion to the one of style?
Fashion is an industry, and some designers. Style is how the people integrate fashion in their everyday life. Some do it better than others. I just saw the film about Bill Cunningham and I think he demonstrates that better than anyone.

What does fashion have to do with intellectuality ?
I don't know, I'm not much of an intellectual. I'm a handy man!
We like Bill Cunningham New York a lot, too, Andre! Does this mean you'll come back stateside soon? We know a place that could use a handy man, actually, and it's at 32 Mulberry Street.
We kid, we kid. We're just excited, OK?