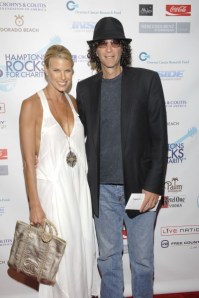 It was a family affair out East last Thursday evening. The "Hamptons Rocks for Charity," benefit concert brought out an impressive collection of blue bloods eager to see Crosby, Stills and Nash perform live. Tanned-and-linened parents schmoozed, while their energetic, progeny—no doubt less eager for the band to take the stage—formed packs of mini-socialities. Wearing high-heels and hair feathers, they BBMed each other and giggled as they flitted about the East Hampton Studio.
An impressive showing of TV personalities, including Hoda Kotb, Donny Deutsch, Michelle Caruso-Cabrera and Rosanna Scotto mingled with the likes of Kathlean de Monchy, Marina Albright, Ron Delsener, Tanya Zuckerbrot and Nancy Jane Loewy. Guests milled about, sipping on  cool drinks and surveying auction items before the show. Cliques of middle-aged housewives peered into the black Mercedes E350, touching the steering wheel and leather seats like giddy teens at their super sweet 16s. "But isn't it easier for us to just buy the car?" guest Bonnie Fox mused, as she watched her husband buy a raffle ticket.
Event organizers scrambled to accommodate last-minute changes to the guest list as the concert had been postponed from the previous weekend due to Hurricane Irene. Bewildered waiters seemed slightly overwhelmed as they attempted to navigate the crowds while carrying silver platters of tuna tartare, lobster salad and crab rolls, all ably prepared by chef Geoffrey Zakarian. Even so, The Observer overheard some grumbling about a dearth of nibbles, and we saw at least one woman in a cocktail gown order a pizza to the venue.
Due to what seemed like an operational mix-up, attendees were not given their seated tickets for the show when they arrived, and by 9:00 a long line had formed at the check-in table, as people began to voice complaints. After 20 minutes, the entrance was completely jammed, and the boisterous crowd began behaving badly. Several over-assertive gentlemen began to rush the booth, cutting lines and hustling the ticketeers. Security demurred and let the well-heeled revelers have their way. Some disheartened and disgruntled guests, of the older, more staid variety, left amid the confusion.
One flustered latecomer approached her friend asking if the show had started. "Oh God no. People are getting smashed," her friend said. As husbands waited in line, wives brought fistfuls of cocktails from the bar, The festive atmosphere was in full swing, and we caught a whiff of a certain rock-concert odor.
Beth Ostrosky Stern had a positive take on the pandemonium. "That means the event is a success. Its all good charities, good money, all of that," said the blonde beauty who, admittedly, didn't have to wait in the fray. But it was true, the crowd was eager to get rocking.
The Observer asked Howard Stern about his Labor Day plans. "Hanging out in the Hamptons," he said casually, as if he was a prototypical East End-er. Mr. Stern went on to discuss his admiration of the band. "I love them. I only saw them one time," he said from behind his signature dark glasses. He conceded that he would have liked to see the missing fourth member. "We'd love to see Neil Young," he said.
Some other guests repeated same nostalgic refrain.  "Yeah, this is exciting. I miss Neil Young," said Gerry Curatola.  "But I think it's great." Mr. Curatola said he had seen the band only once before, when he was 19. "I look a little different, but I still have the mojo"
As people got their tickets sorted out, they were forced to abandon their libations. No glass allowed in the theater, attendants warned.
The show began with a brief apology for the ticket snafu from organizer Michael Bebon followed by a cutesy introduction by the tween set, chanted in middle-school unison. "Ladies and gentlemen, Crosby, Stills and Nash," the kids shouted before sprinting confusedly toward the wings as roadies hearded the youngsters off the stage.
Steven Stills, David Crosby and Graham Nash proved they still had it, opening the set with Joni Mitchell's "Woodstock." Tunes like "Ruby Tuesday" brought back the memories as the crowd was roused enough to sing along, with some more excitable attendees dancing in the aisles.
"I was stoned for like two whole years, and I listened to this all the time," one businessman said as Nash and Crosby crooned at center stage, singing love song "Guinevere." His wife, looking alarmed, promptly hushed him.
We asked one guest when she had last seen the band perform. "Many, many years ago. I hate to say how old I was." The woman, it turns out, was Pam Kern, the self-proclaimed Queen of 114 who runs a gas station in Harbor Heights. Unlike most of the East End upper-crusters present at the party, the freewheeling Ms. Kern seemed to have experienced the rock legends at the height of their career. She had seen Crosby, Stills, Nash and Young perform with the Beach Boys and Joni Mitchell. The Observer wondered if she had kept the ticket stub from the event. "Actually it didn't cost me anything because I went with an Air Force gentleman and he took me. We had a blast," she said, remembering the bygone era fondly.
Midway through the set, it seemed organizers had a change of heart regarding the alcohol policy, and guests started leaving the theater and re-appearing with glasses of wine (sometimes two). Before long, the crowd got somewhat rowdier, with beach moms showing off their best air lasso moves and their husbands waving their arms back and forth to the the evident chagrin of their on-looking children.
Fearing a rush on the valet similar to the rush on tickets, we made our exit as the set came to a close. Outside our eyes struggled to adjust to the country darkness of East Hampton, as music and voices emanated from inside, the party still going.
eknutsen@observer.com