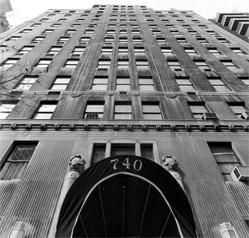 By now, word has traveled around New York's society circles that video game magnate Gregory Fischbach and his wife Linda have put their home at 740 Park Avenue on the market.
In this market, however, it can take a while for these palatial grandaddy apartments to sell. Neighboring unit 4/5C, for example, has been on the market since August 2008. Initially priced at $35 million that unit has embarrassingly been chopped a full twelve million, remaining unsold at $23 million.
Apparently the Fischbach's residence, on the 17th floor, will not suffer the same fate. It quietly came on the market earlier this year, and a source with close ties to the godly building has told The Observer that a prospective buyer has just passed the notoriously severe co-op board. A sale at 740, it would seem, is on the horizon.
The apartment was once owned by Thelma Chrysler Foy, the colorful socialite whose father was the auto-making legend Walter Chrysler. The Fischbachs bought the place back in 1994 for an unknown amount, though the apartment was listed at $6.3 million, according to Michael Gross' tome on the building. It seems times have changed, however, as the Fischbachs are reportedly asking $29 million for the place.
The Observer placed a call into the apartment and briefly spoke to Mrs. Fischbach. "You know what, we're just in transition right now so were not sure," she said warily of the sale. When we asked about a prospective buyer passing the co-op board gauntlet, the conversation went colder than relations between Kent Swig and Liz Macklowe, the divorced residents of the limestone wonder. "You know I actually don't want to speak with you," she said politely before hanging up.
eknutsen@observer.com