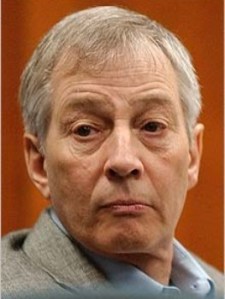 Harlem, you have a new neighbor. Robert Durst, the troubled son of real estate magnate Seymour Durst, has just purchased a three story townhouse at 218 Lennox Avenue, The Wall Street Journal reports.
The five-story townhouse at 218 Lennox Avenue currently features three separate apartments and a beauty salon on the ground floor. We wonder whether Mr. Durst is interested in resurrecting his career as an esthetician. In any case, the community is sure to have strong feelings about Mr. Durst's newest purchase, considering he admitted to one murder and suspected in two others.
It's not certain, however, that Mr. Durst actually plans to live in the building. According to The Journal Mr Durst spoke of buying the place as an investment.
During one visit to the house before his purchase, Mr. Durst talked about turning one of the apartments into a duplex   for himself, according to a broker familiar with the matter. But he also was said to be considering the property for its investment value.

"His broker said he was also looking for other investment properties on the commercial streets in Harlem," said Brian Phillips, a Prudential Douglas Elliman broker who represented the seller in the transaction.

Mr. Durst is currently married to commercial real estate broker Debra Lee Charatan. Perhaps it was Ms. Charatan who helped Mr. Durst set his sights on Harlem.
Having been passed over once for the family business, perhaps Mr. Durst once to prove once and for all he can make a go of the Manhattan real estate game.
eknutsen@observer.com