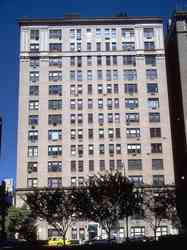 Who said that print journalism was dead? The Observer scoffs at such accusations, naturally. Further evidence to support our cause? The president of Central National-Gottesman, one of the world's largest pulp and paper distributors, has just purchased a new New York home. Kenneth L. Wallach and his wife Susan bought a place at 1160 Park Avenue earlier this month, according to city records.
The 2,200-square-foot home is in need of some work, which may explain the $2.4 million price for all that prime Upper East Side space. "Bring your contractor and create your dream prewar Classic," a listing from Douglas Elliman brokers Kim Shepard-Fabrizi and Brian Nordell exclaims.
The two-bedroom, three-bath co-op features a formal dining room, a 400-square-foot living room with a wood burning fireplace, and a "massive kitchen" offering "endless possibilities including the creation of a separate laundry room." Maybe the Wallach's could even squeeze in a printing press.
A separate master suite includes four full closets, "open city views and partial Central Park views, and an on suite windowed bath." En suite? On site? Whatever it is, you can peep while you… shower!
The Wallachs acted quickly on the deal, as the property only hit the market in July, asking $2.68 million at the time. That is almost one percent of Central National-Gottesman annual revenue. Founded in 1886, the company has 26 offices worldwide, managing some 4 billion tons of product annually. The fine papers cover everything from the inside of books to the outsides of catalogs.
The home was sold by the estate of Cora Marks, a widow who passed away last spring. According to Property Shark, Marks and her husband had lived in the building since 1978.
eknutsen@observer.com