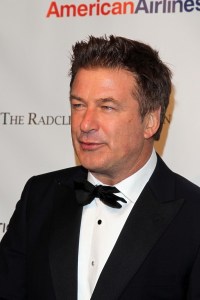 It's been a good couple of weeks for Alec Baldwin. First he sealed the deal on a new $11.5 million penthouse at Devonshire House, and now he's found a buyer for his former pad at the Eldorado, the New York Post reports.
The listing makes the three-bedroom, 3.5-bath co-op sound like a zen paradise: the "home boasts unparalleled serenity with park, reservoir and skyline views. Light floods in as the sun reflects off the reservoir and barely a sound is heard." We can just see Mr. Baldwin practicing his full lotus position…O.K., probably half lotus.
The full floor spread includes a formal dining room, a paneled library and a large eat-in kitchen. A 200-square-foot master suite includes two walk in closets and and five (count them, FIVE) additional closet spaces. Considering that Mr. Baldwin's new place at Devonshire House has a private dressing area, wethinks the actor made wardrobe space a real estate priority!  Perhaps he wants that dressing room feeling even at home.
The apartment was listed for $9.5 million and is currently in contract. Corcoran broker Scott Stewart declined to comment about property.
eknutsen@observer.com