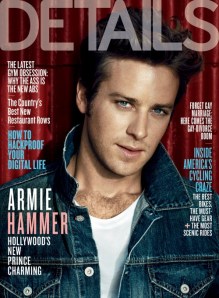 Forget how many trend pieces it takes to make a genre: how many staff departures does it take to make an exodus?
Details entertainment editor David Walters resigned late last week to take a job at The Daily, according to a Conde Nast source. Mr. Walters, formerly of GQ, is the third high-level departure from the men's magazine in a month.
He follows Paul Katz, launched and ran Details' website, and articles editor Mike Guy. Mr. Katz now handles partner strategy and development for Flipboard, the startup social magazine for iPads. Mr. Guy was recently named editorial director at Maer Roshan's addiction and recovery site, The Fix, which has been staffing up since it raised $2.4 million in equity financing in April.
Reached for comment, Mr. Roshan said he is excited for Mr. Guy to bring his weighty men's fashion journalism experience to the operation.
"Finding out that he used to be Hunter Thompson's assistant sealed the deal for me," he said.
According to our source, more departures are coming, but the masthead decimation may be a short-term headache. After all, Details is already among the leaner machines in the Conde Nast stable, a fact that helped it survive McKinsey & Co.'s massacre-by-PowerPoint in 2009, which condemned the more popular titles Gourmet and Domino.
In the past, Details has also benefited from a longstanding strategic relationship with GQ. In the McKinsey purge, GQ publisher Peter Hunsinger lobbied for Details' survival by arguing that if Details folded, its advertisers(most of which overlapped with GQ) might go to Esquire, igniting a second Hearst vs. Conde advertising competition that would match Elle vs. Vogue in its ferocity.
"We are stronger together," Mr. Hunsinger told The Observer in 2009. "We run the town."
But today, Conde's fraternal alliance does not run New York as smoothly as it once did. During the first half of 2011, both magazines posted roughly three percent losses in ad pages­—the only two men's titles that posted declines, according to Women's Wear Daily. although GQ still won the category). Hearst's Esquire posted a 12.5 percent gain, Rodale's Men's Health climbed four percent and Jann Wenner's Men's Journal climbed five percent.
Details editor Dan Peres did not respond to a request for comment.