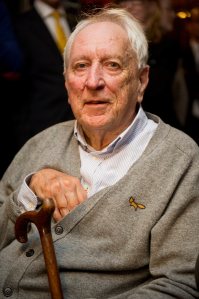 When Barbara Epler received the news last week that Swedish poet Tomas Tranströmer had won the Nobel Prize for literature, she had one reaction: "I said, 'Call the printers!'" she recalled.
Ms. Epler is the president of New Directions, publisher of Mr. Tranströmer's The Great Enigma: New Collected Poems, an anthology translated by the Scottish poet Robin Fulton. For New Directions, Mr. Tranströmer's win was big news — by Friday its book was ranked #12 on Amazon, a rarity for the independent publisher, which is known for its commitment to publishing difficult poetry and literature in translation.
"For a poetry book to be number 12 that just kills me," said Ms. Epler, adding that while Mr. Tranströmer "sells perfectly well in our terms" the spike in sales last week was positively "stratospheric." In response, New Directions quickly arranged to have an additional 1,500 copies of The Great Enigma printed for shipment by tomorrow, forcing its short run publisher to work through the Columbus Day holiday. Another 8,000 copies will follow in a few weeks.
In Minneapolis, Graywolf Press, the independent publisher of The Half-finished Heaven: The Best Poems of Tomas Tranströmer, selected and translated by the poet Robert Bly, celebrated the award with scones and muffins. Then they went to work. "We were all pretty busy actually," said Graywolf publicity director Erin Kottke. "We didn't have time to really revel in it because we were scrambling to figure out what the next step was." Graywolf's reprint is now also underway: 10,000 copies with a Nobel Prize sticker on the cover for release in three weeks and a planned second printing with an amended cover to follow.
The third publisher with the works of Tomas Tranströmer on its backlist is Ecco, whose publisher, Daniel Halpern, first published the poet in 1987 when Ecco was still independent. Today Ecco is an imprint of HarperCollins books, and by Friday morning the publisher had announced that it would be reissuing its two titles, For the Living and the Dead: a Memoir and Poems and Selected Poems, edited by the poet Robert Hass. With the resources of a massive publishing house behind it, Ecco's reissued books will have redesigned covers and be ready for sale by the end of this week.
Mr. Halpern, who expects Ecco's books to sell some 15,000 copies, was listening to NPR in the shower when the news broke. He told The Observer that the award was unexpected but that the poet was an old favorite. "Tranströmer should have gotten it 25 years ago and in no way is this some obscure Scandinavian," he said. "Everybody thinks it's a really righteous prize."
So now that everybody is reprinting Mr. Tranströmer's work, the question remains: which version should you buy? Well, that depends. New Directions' The Great Enigma is the most comprehensive volume, a collected poems that includes a half-century's worth of books rather than a careful selection. Its translator, Robin Fulton, is a Scottish poet who has lived in Norway since 1973. (The New York Times reprinted two of his translations here).
"Of course I would say that I think it's the best translation, but I really do," said Ms. Epler. "And the way New Directions works, we're a small independent publisher and any profits we make go into publishing more poetry books."
Graywolf's collection of the "best poems," The Half-Finished Heaven, was first published in 2001. Its poems were selected and translated by the poet Robert Bly, a good friend of Mr. Tranströmer who was also one of the Swedish poet's earliest American advocates and translators of his work into English. "Robert Bly was early on in terms of translating Tranströmer and sort of influential," said Ross Shideler, a professor of comparative literature at the University of California, Berkeley.
Ecco's Selected Poems was first published in 1987 and edited by the poet Robert Hass. Rather than rely upon a single translator, Mr. Halpern said Mr. Hass reviewed all the translations available at the time and selected what he thought were the best.
"He worked with a Swedish-speaking person and when he needed to get a reading for tone or literal content he relied on her," said Mr. Halpern. "He selected the translations of individual poems he felt were the strongest and if they had a problem they were revised." Dr. Shideler called Mr. Hass's Selected Poems, "a really fine collection."
Ecco's other book, For the Living and the Dead, is also included in the New Directions anthology, but the Ecco version includes a short prose memoir by Mr. Tranströmer. FSG will be publishing its own collection, The Deleted World, with translations by Robin Robertson, later this year.*
One thing about Mr. Tranströmer that all the publishers seemed to agree on is that he is a poet that translates successfully. "One of the reasons for that is because his poetry is so concrete and solid and visual even as he moves into these very abstract kinds of things," said Dr. Shideler. "Anybody in English-speaking countries who knows something about poetry really knows about Tranströmer."
As an example of Mr. Tranströmer's appeal, Dr. Shideler said that on Thursday morning he got a call from a former student who simply read out one of the prize winner's poems over the phone. "And this is a guy who does Brazilian literature," he said.
*Given that Mr. Tranströmer's translators/editors all seem to be named Robin (Fulton) or Robert (Bly, Hass), a translator named Robin Robertson seems uniquely designed to confuse scholars of Scandinavian literature.