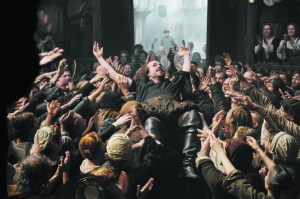 Who really wrote William Shakespeare's plays? Theories abound as scholars, dramaturges and researchers have accused the Bard of Avon of perpetrating a massive hoax through the centuries and boiled down the suspects. Now a lavish but somewhat tedious costume epic called Anonymous investigates each and every culprit in what often seems like double the time it must have taken to write the 37 plays, 154 sonnets and numerous collected poems of the Shakespeare oeuvre in the first place. It's an exhausting film, but worth your stamina.
Shakespeare may be the most performed playwright in the history of letters, but in 400 years not one original script has been found in his own handwriting. When he died at 52, survived by an illiterate wife and daughter, he left behind in his will no mention of a single manuscript. In Anonymous, an obvious labor of love for director Roland Emmerich, the culprit is identified as Edward de Vere, the 17th Earl of Oxford, a wealthy aristocrat who could not attach his real name to works of lusty romance, tragedy and political intrigue because they lampooned prominent members of the court. He uses his influence to free Ben Jonson from the Tower, where he's been placed on charges of sedition, on the condition that the struggling young playwright attach his name to all of Oxford's new plays, but the plan backfires when the opening night of Henry V causes a riot and a drunken oaf takes the stage and pretends to be the author. This is a jerk named Will Shakespeare, a bad actor who can scarcely make complete sentences but is willing to sell his name for a price, totally unaware that it would go down in history. Later, he grows greedy and kills Christopher Marlowe because he was about to expose the deception. He then tries to blackmail Oxford. There's no proof of any of this, but it makes sense. The threat to Oxford's power and position in the court is plausible, and after he died signing his name to the last play, Shakespeare retired to Stratford, became a businessman, and no other play ever surfaced again. The facts are still open to conjecture, but it's fascinating, like watching the pieces of a political mystery thriller falling into place.
In addition to pomp and pageantry, Anonymous also provokes a surfeit of skepticism about Queen Elizabeth I, beautifully played by Joely Richardson as the young monarch and by Ms. Richardson's mother, Vanessa Redgrave, as the dowager queen. According to John Orloff's elaborate screenplay, she was anything but the "Virgin Queen" played by Bette Davis, but a randy piece of work who had many lovers and bore several children. The film takes the liberty of accusing Oxford not only of penning his plays under the name William Shakespeare but of being the illegitimate son of Elizabeth and, in later life, the father of another son by her, without knowing she was his own mother. Incest, murder, war, plagiarism—this movie has everything. Meanwhile, Anonymous builds a dazzling panorama of Tudor history, from the personal illicit palace intrigues of the royals, to the public passions of London's cluttered streets and haymarkets, to the bustling population of poets and peasants and thieves and whores, to the crowded theaters filled with raucous mobs screaming for scandal. You will not be bored.
My caveats: It plays hopscotch with history, jumping back and forth in a confusing jumble of time frames, and it introduces so many tertiary characters, in what looks like a cast of thousands, who are hard to tell apart or keep all straight. The labyrinthian court treacheries to seize the Tudor crown because Elizabeth has no heirs, and the shift of emphasis to the Essex Rebellion of 1601, when the queen sentenced her lover Essex (who will always be Errol Flynn) to his own beheading, turn the film muddy and confusing. But the recreation of the Old Globe, the fame that brought ruin and dishonor to both Oxford and the money-grubbing Shakespeare, and the sacrifice of Oxford's own property and family fortune to write plays he believed in against a background of danger and violence make for a bloody good yarn, masterfully told, lushly appointed, slavishly researched and brilliantly acted. Rhys Ifans, with a face like a carpenter's tool, usually specializes in freaks and geeks, but for those who can't stomach him, his serious role as the Earl of Oxford is deeply affecting. And he is surrounded by a cast of pure gold—the splendid mother-daughter team of Richardson and Redgrave as Bess, a comic performance by Rafe Spall as Shakespeare and a huge supporting cast including Derek Jacobi, David Thewlis and the always hammy Mark Rylance, whose ominous onstage Richard III wears more makeup than Mae West.
Historians are already calling Anonymous preposterous humbug, but I found it a complex cornucopia of ideas and panache. You go away sated.
rreed@observer.com
ANONYMOUS
Running Time 130 minutes
Written by John Orloff
Directed by Roland Emmerich
Starring Rhys Ifans, Vanessa Redgrave and David Thewlis
2.5/4