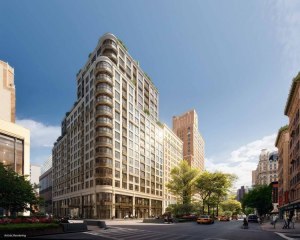 Everybody's favorite uptown development The Laureate is at it again. Last week a $12.5 million deal came through, the largest so far at the new Upper Broadway building, and this week another penthouse has sold, this one for $10 million.
Although the buyers purchased through an LLC,  The Observer traced their Marlboro, NJ address to Tamar and Gary Tolchin. Mr. Tolchin keeps himself busy in investing while the couple divide their time between philanthropy, horse-breeding and The Mill, an upscale New Jersey restaurant they co-purchased in 2001.
Although no sprawling New Jersey estate, the Tolchins will be quite comfortable in their new five-bedroom, 4.5-bath Manhattan hideaway. The 3,500-square-foot apartment has a long entrance gallery which leads to what the brokers like to refer to as the great room, a heavily windowed 524-square-foot living space.
While perhaps not as impressive as their new neighbors' expansive terrace, the Tolchins' new place features a full 816 square feet of outdoor space. One of the apartment's two decks is accessible from the library and a spare bedroom, while the other is off the master suite and the breakfast room.
Speaking of the master suite, Tolchins will enjoy a walk-in-closet and a large master bath with "custom designed 5-fixture bathroom with radiant heat floors, a deep soaking tub with separate shower, double sink vanity with Bianco marble walls and an Orion Blue marble wainscot." Sounds OK by us!
The property hit the market last February with a $10.7 asking price.
eknutsen@observer.com