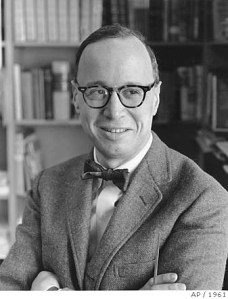 Arthur Schlesinger Jr. was one of the greatest public intellectuals of his generation. In addition to advising the Kennedy clan and numerous other public officials, Schlesinger wrote some 30 books. A good many of them were produced in his home away from home, a two-bedroom apartment just across the courtyard from his main residence at 455 East 51st Street.
"That was his den," a neighbor told The Observer. "He went up there every day and read or wrote or whatever it was he did."
The apartment came on the market in 2007, not long after Schlesinger died of a heart attack, but it never sold until now. Democratic devotees and American history aficionados can turn the page on this co-op finally, knowing it has been sold by Alexandra Schlesinger, wife of the Historian of Power (that's how The Times described him in its obituary.
The apartment was a tough sell, it seems, and did not sell for well over a thousand days. Originally listed for $1.5 million, the place finally sold for barely half that city records show: $850,000. There was a contract signed a week after the home went on the market all those years ago, but it is unclear why that deal never closed.
The most recent listing, from Brown Harris Stevens in 2009, was hoping to use Schlesinger's star power to sell the place. Consider its first line: "Noted historian Arthur Schlesinger Jr. spent more than a decade writing in this charming prewar two bedroom apartment with wood burning fireplace and East River views."
In the end, the place is staying in the family, which may explain the swell deal. The apartment was purchased by Tim Grady and Catherine Allan of St. Paul, Minnesota. "My wife's father, his third marriage was to Alexandra who, when they split off, then she married Arthur," Mr. Grady explained. He is a cycling enthusiast and film producer, and his wife an executive producer at PBS—she spends a good deal of time in the city, and will be using it while here.
An unprepossessing four-room home in the doorman building, the bedrooms flank a central bathroom before a large living area and a small kitchen near the doorway—cramped for a family of three, perhaps, but perfect for housing the mind of a brilliant writer hoping to gaze out over the East River as he—or she!—works. Not quite the Minnesota woods, but Ms. Allan should be happy. And presuming she will be packing books, the living room is lined with shelves, against a nice canary-yellow paint job, as a listing photo shows.
It wasn't just the walls of his little abode that were sunny, either. "He was as social as he could have been at that age, and a gentleman always," the neighbor said. "A wonderful gentleman."
eknutsen@observer.com