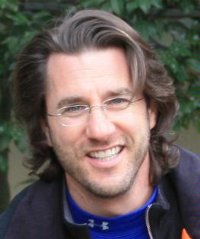 NPR's Morning edition had self-publishing advocate turned Amazon (AMZN) publishing advocate Barry Eisler on for an interview today. He talked about his decision to walk away from a six-figure book deal with St. Martin's Press earlier this year and to publish his book with Amazon's thriller imprint Thomas & Mercer instead.
Mr. Eisler said that publishing was like most bureaucracies: "they start out serving the wider good and end up serving their own interests" and that they care mostly about "preserving their own position, perks and profit." (Apparently a realization Mr. Eisler arrived at somewhat belatedly, after putting everybody through the hassle of lining up a book deal for him. Also we should note here that the digital version of The Detachment is not available for the Nook or Kobo.)
"What I care about is readers," said Mr. Eisler (to which we add, readers who buy e-books exclusively through Amazon.) "What I want is books that cost less and are delivered faster." It is true that Mr. Eisler can release his book more quickly through Amazon, that it's cheap ($5.99 instead of $7.99 for his digital backlist, although the paperback version of his Amazon book, at $9.47, is more expensive than the paperback version of his other books, which are also $7.99) and that he gets a significantly bigger cut of the revenues.
He goes on to say that the book in question, The Detachment, has sold more than any of the books Mr. Eisler has put out with traditional publishers. It's difficult to know by how much because Amazon does not release sales figures but the book is currently #1 in Kindle Store > Kindle eBooks > Fiction > Genre Fiction > Mystery & Thrillers > Thrillers > Spy Stories & Tales of Intrigue. Mr. Eisler adds, however, that he has received some criticism on self-publishing blogs and message boards alleging hypocrisy. No matter: "publishing for me is a business not an ideology," he said.