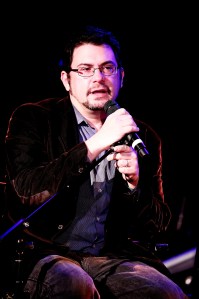 The contestants represented New York's spelling elite. Many of them had whole careers' worth of spelling behind them, elevated reputations and steady salaries underpinned by the public's faith in their agility with words.
Now, sitting in two rows before an audience on the third floor of the Standard Hotel, wearing comically large name tags and sparkly bumblebee antennae that bobbled gently as they fidgeted, they awaited the bloodletting. While this particular group might be upstaged by the children on ESPN every year, the Council of Literary Magazines and Presses Annual Spelling Bee fundraiser is nevertheless a very serious affair.
Ira Silverberg, the dapper silver-tongued literary agent from Sterling Lord Literistic, was the evening's host. The judge was Jesse Sheidlower, a man whose pinstriped suit, severely trimmed hair and rimless glasses might have passed as a dictionary-editor Halloween costume, if he were not already editor-at-large of the Oxford English Dictionary.
Warming up the crowd, which had just come from a silent auction, Mr. Silverberg asked his co-host what new words would be coming out in the next edition.
"I'm not on the new words team," said Mr. Sheidlower, flustered.
"Just give us something from the street."
"Well, the Concise Oxford Dictionary did add 'sexting,'" he said, then blushed.
The first contestant at the microphone was Jonathan Burnham, the British-born publisher of HarperCollins described by Mr. Silverberg as "a talented pianist, owner of two dogs and a fantastic speller." Mr. Burnham fulfilled expectations with a flawless execution of the word "reliquary."
Nancy Franklin, the recently departed television critic of The New Yorker, came next.
"So," said Mr. Silverberg. "Did you quit your job?"
"I did!" said Ms. Franklin. "I'm leaving my job to not write. I've worked for The New Yorker for 33 years."
"So you started at age 12?" said the charming host.
Her word: "Genealogical."
"Oh Jesus," she said, but then rattled it off without error.
The first elimination, however, was not long in coming.
"James Frey!" crooned Mr. Silverberg. "You publishing provocateur! You don't even write the books, you get kids to write them at the YMCA." Mr. Frey's word was "commissariat."
"It's going to be a first round exit this year," he said, sighing. He was right.
The novelist Julia Glass spelled "commissariat" correctly, then Ben Greenman, an editor at The New Yorker, powered through "nacreous" ("made of or resembling mother-of-pearl"). The novelist Bernice McFadden succumbed to "strychnine," then Francine Prose, David Rakoff and Elissa Schappell all fell afoul of "antecedence," which most spelled as some variation of "antecedents." Only Helen Simonson, author of Major Pettigrew's Last Stand finally chose the correct homonym.
"Oh, Simon Winchester," said Mr. Silverberg to the next contestant, the British author of Krakatoa. "Fancy-schmancy! You've always had this posh thing. I like that." Mr. Winchester poshly spelled "asseverate."
Thereafter, the casualties came quickly. Meg Wolitzer, author of The Uncoupling, went out on "uncrystallized;" Ms. Simonson fell to "aardwolf;" and Mr. Winchester to "virgule." Ms. Glass spelled "chary" as "charry." Both Patricia Marx and Bob Morris misspelled "opprobrium" (although Mr. Morris earned Mr. Silverberg's opprobrium when he hinted that the host, also Mr. Morris's husband, would soon be leaving his job at Sterling Lord to a destination as yet unknown). O books editor Sara Nelson succumbed to "wantonness." Lynne Tillman proved ignorant of "ignoramus." Finally only Ms. Franklin, Ms. Burnham, and Mr. Greenman remained. The death knell was "pyrosis" or heartburn, which both Mr. Burnham and Ms. Franklin spelled with two "r"s. Mr. Greenman asked for language of origin: Latin. Victory!
Wearing a paper crown decorated with pipecleaners and shaped like a large golden bee and clutching his new copy of the OED, Mr. Greenman looked underwhelmed by his win. "I won before, in 2009," he said.
Earlier in the evening he had been handing out a small flier for the Occupy Alphabet movement, which read "Why do the top six letters in our alphabet use more than 50 percent of the available space in all spelling? It hardly seems fair."
Asked if he was a whiz speller as a child, Mr. Greenman said he preferred math. As for his strategy of always asking for the language of origin (including on the word "kibbutznik," which drew a laugh), Mr. Greenman said, "I just like stalling."
The next morning, however, Mr. Greenman sent us an e-mail. "I dreamed about spelling, sort of," he wrote. "I was in some kind of banquet hall and I needed to use the restroom and the doors had M and W on them and the letters were kind of important, there, in the dream. Normally you just find the right one and push on through but I think I had the alphabet on my mind."