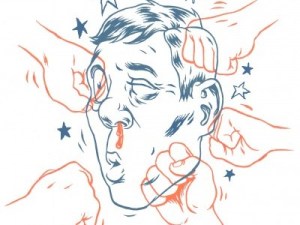 The unmarked cop car sped out into the late night cobwebbed streets of Nolita at 3 a.m., bursting through red lights, sirens blaring, and ricocheting around turns that shook us back and forth, east to west. We had to lay low in the back seat, even for the quick trip to the corner of Mott and Houston. We pulled up next to three cruisers, sitting hotly in a giant cough of simmering exhaust, tire tread and the flash of red, white and blue.
Also, there was the pain: screaming molars rubbing up against sore, seared gums, our jawline banged, the burning skin of our neck still raw and throttled. We were a bit dinged up.
Against the side of the building stood three men. Black guy, with a short-sleeve, green, button-up shirt that didn't quite cover the wired-together torso muscles. Another, this one massive, in a gray T, with a flesh-pouched face. Third black man, with decades on the other two, wearing a Panama hat.
The officers snapped out of the front seats.
"Can you identify who did this to you?" the first wanted to know.
"Yes," we said. "The man in the green shirt and the big guy next to him. Never seen the guy in the hat before."
"You heard the kid," he said. "Cuff 'em!"
A slew of policemen from the other cars roughed the two men against the brick wall and slapped the word-of-God metal handcuffs around their wrists, arms back behind them. They shoved them into the back of a cruiser, but before ducking in, one of the guys, the big guy, swiveled his neck back toward our unmarked car. We locked eyes for an infinite second. With that, we slinked down in that back seat, behind the headrest, ducking our scarlet-laced, hammered-on mug.
The cruisers ahead of us cranked up the sirens and sped off.
"So," the officer said, as he eased his big ass into the cushion of the driver's. "What the hell happened to you tonight?"
"PLANS FOR LATER?" ASKED A FRIEND at the other end of the table. It was earlier that night, trouble still a dot on the horizon.
Our long and relaxed dinner at the new, soaring, silver-encrusted Hotel Americano, under the High Line in Chelsea, was winding down, and the hours of whiskey, wine and striped bass were working their woozy magic.
"Not really," we said, scooping up the last of our shared dessert. A server refilled our flute with Champagne, and did the same for the girl. "Meeting up with a friend. Nothing too crazy."
It was late, around 1 a.m., so we thanked the owner and lit out into the post-rain haze that had tucked its way into that ancient corner of 10th Avenue where Marquee still squats empty as sin. It was warm in the fog, the air so dense whole people could hide in it. Surprise people, dangerous people, obscured by the relentless frieze of shadows.
The cab zipped downtown, and we parted with our friend at Broadway-Lafayette, before heading to the neighborhood place where our pal was already nursing a Stella. We arrived, circulated, chatted, danced—it was a Wednesday at Kenmare.
"I think I've got to head out," we told him later, gulping down the rest of a vodka and soda. Sure, we had a good booth—a French kid in leather who said his band was "big in Europe" clutching a young blonde, a jolly 20-something who worked in public relations—but it was late, a school night.
We were out: handshakes, cheek pecks, a stroll down Kenmare Street, past bodegas where men glanced at video keno screens over sandwiches and past other drunken kids counting on muscle memory to get them home. We had the routine down, all of us.
But perhaps there was something off. Who is that, lingering on that corner? How odd. And XIX, a posh lounge under Travertine—man, it seems awfully packed. And all those hissing shadows. No matter, we thought. The light was red, so instead of crossing we continued onto Delancey, across Bowery, to a dim pitch of sidewalk flanked by a park and a railing.
Suddenly fast footsteps behind us—thudding pitter-patter in a wave, rubber soles smacking like jazz snares, loud, louder, nearly here, bent arms and fists cutting the air. We swiveled around on a pivot and saw. The two men were barreling forward, a vortex, a dolly zoom, and as the bigger one pounced on our back, razorblading his tree trunk arms around our neck, the smaller one bashed the side of our face as we fell helplessly the ground, and two certain words went through our head.
Oh fuck.
"Give us everything!" the smaller one shouted. "Money, wallet, cell phone, everything!"
Our cheek bitten by gravel, we splayed our arms trying to get at our pockets, as the bigger guy squeezed tighter around the top of our spine, our ass scraping across the ground. Did they have a gun? A gun?
Oh fuck.
"I don't have any money," we spat.
Of course we didn't have any money. In fact, of the many men and women leaving chintzy places that night, we must have been the last demin-jeans-and-tweed-jacket fast walker they'd want.
The smaller man hit us again.
"Give us everything!"
Out came the wallet, and the cracked iPhone, and the keys affixed to a simple key ring. We had nothing, they took everything. There was little left for them to do, then, but run off into the same dewy mist, leaving us busted and defeated on the ground, squinting to see them dive into that damp mystery that once made the city seem so damn romantic.
"AND SO WHAT HAPPENED NEXT?" the hulking detective asked as he scribbled into a notepad.
We had been taken to the city's Fifth Precinct house, in Chinatown, for a few rounds of questioning. The two men we had sent away, our assailants, were locked up somewhere in the building. The sole witness to what went down, a driver parked near the scene, sat next to us. And there were the detectives who paced around the room.
We cleared our throat, for effect.
"I found my keys, they must have dropped them or something, so I could have gone home and licked my wounds, but instead I went back to Kenmare, to find my buddy," we began. The detective was writing furiously, so much that he had begun to sweat fat beads that crested over the ripples of flesh on his forehead. The notebook just might have been identical to the one we carried in our jacket.
"Did they have a weapon on them?" one asked.