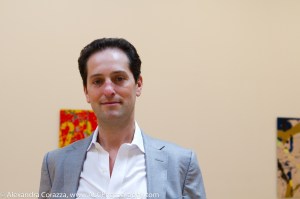 The Armory Show, the modern and contemporary art fair that takes place annually in New York, has hired Noah Horowitz, former director of the online VIP Art Fair, as managing director.
Mr. Horowitz, 32, holds a Ph.D. from London's Courtauld Institute of Art in London and is on the faculty of the Sotheby's Institute of Art in New York. He is the author of the book Art of the Deal: Contemporary Art in a Global Financial Market, which was released earlier this year. The VIP Art Fair, which had its first edition in January 2011, announced Mr. Horowitz's departure on Friday; he begins his new job today with the Armory Show, which started in the mid 1990s in the Gramercy Park Hotel.
At the Armory Show, which will be held next year from March 8 to 11, on Manhattan's Piers 92 and 94, along the Hudson River, Mr. Horowitz joins a team that includes the fair's director and co-founder, Paul Morris, and two other managing directors, Deborah Harris and Michael Hall. Ms. Harris is responsible for the modern art galleries on Pier 92; Mr. Hall works with the emerging galleries on Pier 94, the fair's contemporary wing, as well as the fair's geographically focused section, which this year is devoted to Nordic galleries. Mr. Horowitz will help shape the creative vision of the fair and cultivate relationships with galleries, partner institutions and collectors for Pier 94.
The Armory Show faces increased competition in 2012 due to the launch, in May, of a New York branch of London's popular Frieze Art Fair on Randall's Island. Neither fair has announced its exhibitor list, or indicated when these lists will be made available, but it is widely believed that they are competing for galleries' business.
In September, Katelijne De Backer stepped down as director of the Armory Show, a position she had held since 2000, and Mr. Morris, one of the fair's founding directors along with dealer Matthew Marks and late dealers Pat Hearn and Colin de Land, was appointed as her replacement. At that time, Mr. Morris announced changes to the fair, including the intentional decrease in the number of participating galleries and the addition of more space for social gatherings.
In a telephone interview, Mr. Horowitz spoke with The Observer about his new position.
NEW YORK OBSERVER: What went into your decision to leave the VIP Art Fair and take this position with the Armory Show?
NOAH HOROWITZ: My decision to leave VIP didn't have anything to do with VIP. It was an incredible process working with them and getting that fair off the ground, and I'm proud to leave it in such capable hands with excellent momentum going into their second edition. But the Armory approached me with an opportunity that was difficult to pass up. The Armory is not only a New York institution but has been a major art world institution for many years.
NYO: What have you been hired to do at the Armory Show, and what are the specific parameters of your job?
NH: To help with the reimagining of the fair, and to work with the team to redefine the show's position in today's crowded landscape. They have a lot of ideas already in place, and I've contributed my own, and we're in the process of implementing the next steps. I will be helping to shape the fair as a whole, but specifically, to work with galleries and partner institutions and oversee the activity of the fair's contemporary wing, Pier 94.
NYO: Will we see the effect of your hiring in the 2012 edition?
NH: I hope to make some positive contributions to 2012, but it's a long rebuilding process, and next year's fair is the first step in that direction. We have great ambition moving forward.
NYO: How has your experience with VIP prepared you for this new position?
NH: I've developed extensive relationships with dealers internationally. At VIP, we worked with just under 140 dealers last year and we already have 110 on board this year, many of whom are new to the fair, so I've built up a solid rapport with the gallery community and feel I have a good understanding of their needs and concerns. In this process, I've also acquired a hands-on grasp of the fair business and the various innovations being made in an event-driven market that is very different now than it was in the mid '90s when the Armory started. VIP is one extension of that, being online, but the majority continue to take place in the core brick and mortar arena, where the Armory remains one of the few key, major fairs in the world. This new position offers a terrific platform to draw on all the experience I've had at VIP and transfer that to the "real" world, so to speak.
NYO: It's a pivotal moment for the Armory show, with Frieze launching a New York fair. For the first time, there is competition on the contemporary art fair front in New York. Is that a daunting challenge? Is it what attracted you to the job?
NH: It's a really exciting challenge, actually. I'm coming in at a time when the Armory has lost a little of its momentum. It's public knowledge that some dealers have dropped out of the fair over the last couple years. Yet the fair is still incredibly well attended—last year's attendance of 65,000 was a record—strong sales continue to be made and the focus section, inaugurated in 2010 and turning to the Nordic region next year, has been extremely well received. Moreover, as much as the art world is globalized, New York is still very much the center of the trade, and that's a powerful thing. A few years ago FIAC, the contemporary art fair in Paris, was in a backwater compared to what Frieze was doing in London. But FIAC, which takes place the week after Frieze, has rebounded tremendously and offers a great example of how competition can bring out the best in people.
NYO: Are you involved at all in the redesign of the fair?
NH: When I spoke with Paul in some of our earliest meetings that figured prominently. Michael Hall led an extensive architectural search, and Bade Stageberg and Cox, who won the commission and will be leading the redesign, have made some excellent proposals to scale down the fair, make the booths larger and enhance the visitor experience all around—listening to what dealers and collectors were saying.  All of this will be on view next March and should set an important precedent for future innovations.
NYO: Given that you recently wrote a book on it, what are your thoughts on the current state of the contemporary art market?
NH: The art market is healthier than a lot of people think it is. In August, when U.S. debt was downgraded, there was a lot of pessimism out there. But so far this fall, things seem to have gone quite well. Frieze and FIAC both did alright. It wasn't the boom time we've seen in the past, but then again, you see Gerhard Richter breaking records at Christie's in London two weeks ago. The auctions next month and Art Basel Miami Beach in December will be key focal points. They will help produce a lot of optimism, or, perhaps, uncertainty, going into next year. The art market as a whole, since the 2008-09 period, has rebounded strongly, much quicker than it did after the bubble burst in the early '90s. That's a factor of the art world becoming an infinitely more global environment. It's also a factor of the huge spread of wealth at the very high end of the income curve. That played a major  role in helping temper the decline at the peak of the financial crises in 2008-09. To that end, the outlook is still quite positive. But things can swing rapidly, and people will be looking closely at these upcoming events.
NYO: Will you be involved in an effort to bring in more people to the Armory Show from other parts of the world, such as China, India, Russia—or even just more Europeans than we've seen there in the past?
NH: I'll definitely be involved in that. Part and parcel of making the Armory an absolute standout contemporary art fair is speaking to the global community and bringing an international set of galleries, dealers, collectors, journalists, you name it, to the city in March. At the same time making it a very New York event, with a distinctly New York feel, is something that is crucial as well. As I said before, New York, despite the art world's globalization, is still the center of the art market. A fair like the Armory is incredibly well-positioned to continue taking advantage of this moving ahead.