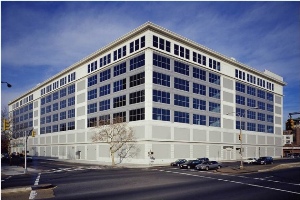 The year's largest office lease deal in Brooklyn was made possible by an intricately designed and, to some analysts, baffling  form of asset financing.
When the New York City Human Resources Administration inked a 20-year deal to occupy 400,000 square feet of space at 470 Vanderbilt Avenue, a former tire factory – among other things – located across the street from Atlantic yards, building landlord GFI Development Company had to devise a new way to bring in $44 million needed to convert a "raw" space into a functional building, complete with elevators and furniture.
"The building needed a huge capital investment both on the face of the building and inside," said Peter Hennessy, 50, president of the New York Tri-State region for Cassidy Turley, who represented HRA in the deal.
In a typical transaction, a landlord and a tenant would each devote a certain dollar amount per square foot towards improvement and installations costs.
HRA, a city agency that provides public assistance to families and individuals, requires in its leases that all tenant improvements be funded by the landlord, Mr. Hennessy said.
Working with Lance Capital and CGA Capital, GFI set up a "TI loan" – or tenant improvement fund – worth $44 million. And this fund would be backed not by a physical asset, but by the rent flow from HRA.
"That rent is absolute. [HRA has] to pay no matter what," said Richard L. Podos, chief executive of Lance LLC.
The rent comes at a bargain to HRA. The company will be paying below $20-a-square-foot for the first few years of its deal with GFI, a source told The Commercial Observer. The city agency will eventually pay GFI's normal $32-a-square-foot asking price as it nears the end of its 20-year lease, the source added.
And with that rent virtually guaranteed to GFI, Mr. Podos said he and his partners had the capital to create "a bond that we're able to sell in the private placement market to major institutional investors."
"In this case [they are] mostly life insurance companies who want to invest in the city of New York bonds," he added.
The bonds mature in seven years and have a rate of 5%.