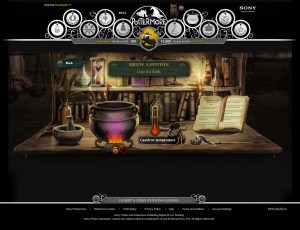 When Charlie Redmayne came to HarperCollins in 2008 to oversee the book publisher's digital transformation, the move was greeted with fanfare, a sign that the industry was taking a proactive approach to the possibilities offered by new technology for interactive books. Today the news broke that Mr. Redmayne, who was named chief digital officer of HarperCollins in 2009, has left the company for Pottermore, J.K. Rowling's interactive web site. Pottermore will also be the exclusive retailer for the digital editions of the Harry Potter series, which are not yet available in e-book format.
Pottermore has had some problems meeting capacity since the interactive part of the web site launched in Beta in late summer. That part of the web site is expected to open to the wider public at the end of October, but the retail part of the site will not launch until 2012, perhaps as late as spring. Mr. Redmayne replaces interim CEO Ron Henwood.
Prior to arriving at HarperCollins Mr. Redmayne was head of commercial partnerships for Sky Online, another division of News Corporation. He also launched an internet company for teens called Mykindaplace Ltd in 2000, which was purchased by BSkyB in 2005.
Mr. Redmayne's decision to leave HarperCollins was in part motivated by a wish to live in London full-time. Since assuming his job at HarperCollins, he has been splitting his time between New York in London. In a statement, HarperCollins CEO Brian Murray said, "Charlie has been a tremendous leader in the digital space during one of the most challenging and interesting times in book publishing. HarperCollins is in a terrific position because of Charlie's efforts and accomplishments across all divisions around the world. We were fortunate to have such a talented digital executive for the last three and a half years, and I understand that we couldn't expect him to live on both sides of the Atlantic forever."
For his part, Mr. Redmayne said, "I'm very sad to be leaving HarperCollins – it is a terrific company and I have loved my time within it. HarperCollins has made great strides in the digital world over the last few years – because it is well led and has great people. These efforts will continue at pace and I look forward to watching their future success."