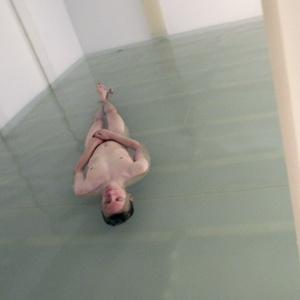 The Department of Health has pulled the plug on the sensory deprivation chamber at Carsten Höller's New Museum exhibit. Well, sort of.
The department told the museum that only one person is allowed in at a time—this person is naked, mind you—to the Psycho Tank of salt water heated to 98.6 degrees that is part of Mr. Holler's "Experience" show.
We were a little too freaked out to strip down and go into the water ourselves. Visitors have to sign a form saying they do not have "have any communicable diseases…that could be transmitted by being in water with others." Reader, disease is not one of the things we wish to acquire from an art exhibition. Knowledge and enlightenment? Maybe.
The New York Post broke the news, reporting that the New Museum would have had to get approval and a permit from the city to continue operating the tank for multiple guests at a time.
"This is definitely not for a germophobe," one visitor told the Post.
Sorry, Mr. Höller, but we will, in fact, fulfill our entire sensory deprivation quota in the privacy of our own home, thank you very much.