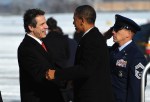 The anti-tax group Club for Growth called on President Barack Obama to emulate Gov. Andrew Cuomo and resist calls for higher taxes on upper income earners.
"When even Democrats like Andrew Cuomo oppose raising taxes on millionaires, you know your class warfare rhetoric has failed to resonate," said Club for Growth President Chris Chocola. "Higher taxes like the ones proposed by President Obama will hurt the economy, not help it. We need to move towards a flatter, more pro-growth tax code and we need to encourage investment by cutting taxes on capital gains and dividends. I applaud Andrew Cuomo for recognizing that higher taxes are not the answer."
The group notes that Mr. Obama and Mr. Cuomo have a history, pointing to a 2009 report that Mr. Obama tried to ease Mr. Paterson out of office in order to clear room for the current governor.
Mr. Cuomo has been adamant about resisting the extension of the so-called "millionaire's tax," despite loud calls for him to do so. But, they fail to note that Mr. Cuomo has also said that he favors a more progressive income tax on the federal level, but has argued that it is just not appropriate at the state level.
Despite a report in The New York Post that Mr. Cuomo secretly wants Mr. Obama to lose in 2012 in order to clear the decks for his own 2016 run, Mr. Cuomo has said that he will do whatever Mr. Obama wants to help him campaign.
According to a recent WCBS (New York) News report, Cuomo is joining with Albany Republicans in opposing the millionaire's tax:  "Standing in the way of renewing the current surcharge on the wealthy and Silver's millionaire tax plan are Democratic Gov. Andrew Cuomo and his fiscal ally, the Republican majority of the Senate. Cuomo says taxing wealthier New Yorkers at higher levels would likely send the rich to Connecticut and New Jersey, taking their income tax revenue and jobs with them."
Notably, President Obama is a strong ally of Andrew Cuomo, and last year even asked the incumbent Governor David Paterson not to run for re-election, eliminating a potential Democratic Party primary for Cuomo.