It's Friday afternoon and everyone is feeling a little antsy. Maybe it's being so close to Halloween season, or maybe it's because some people in New York are having a hard time getting into the holiday spirit without lynching mannequins.
Whatever the reason, let the record show that Vanity Fair's Twitter response to a recent article in its Conde Nast brother publication GQ counts as shots fired.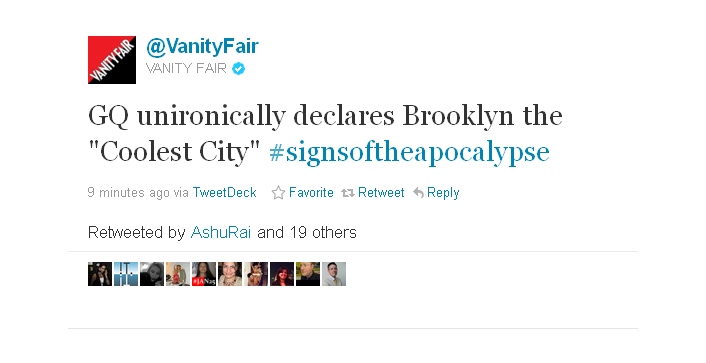 Technically, GQ was just saying that Brooklyn remains the coolest city, and even then this proclamation was really only applied to its food section. Maybe the nit-pickers at Vanity Fair were pissed because Brooklyn technically isn't a city? Or are they just mad because it was GQ, not them, who got the interview with the Hipster Cop from Occupy Wall Street?
Most likely the case, it was just a bored Vanity Fair intern who was tasked with keeping up the Twitter account. Still though, having VF dock cool points from GQ when the former's most popular article right now is "Exclusive Photos: Prince William and Kate Middleton Take North America" seems like a poor battle to pick.