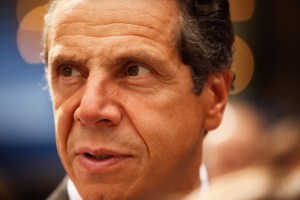 Governor Andrew Cuomo said he thinks the students of the State University of New York system need to deal with tuition hikes and learn about "financial reality."
In an interview taped with WCNY's "Capitol Pressroom" Wednesday, Governor Cuomo explained why he thinks SUNY hikes are a fact of life.
"We passed rational tuition last year for the SUNY system, it gives people predictability. On average, the tuition increase is less than the tuition increase has been in the past. Well, students would like to have no increase ever. I understand that. I wish we were in a position to do that, but there's something called financial reality that we have to deal with," Governor Cuomo said.
Governor Cuomo's "rational tuition" plan includes $300 annual SUNY tuition increases for the next five years. Occupy Albany protesters that have recently targeted the governor oppose SUNY hikes.
During the interview, Governor Cuomo also reiterated his threat to use a veto if lawmakers attempt to draw legislative boundaries without an independent commission.
"My position is and has been through before I was elected, … if there's not an independent process that I will veto the plan, then it will go to a court to decide," Governor Cuomo said.
Governor Cuomo also took the opportunity to praise his new appointments; Port Authority executive director Patrick Foye, M.T.A. head Joe Lhota and Division of Homeland Security and Emergency Services Commissioner Jerry Hauer. The governor described his new crew as seasoned political pros, nay artists.
"I'm very excited about the team we're putting together. You know, I've been in and around government for many years, on many levels, and I truly respect government competence, and I respect public service deeply and I think when it's done well, it's an art form. … The team we're putting together, I think is going to go down in the books as just an all-star team of government," Governor Cuomo said.