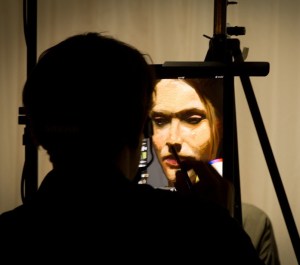 On the seventh floor of the Olivia apartment building on West 33rd Street in Midtown last week, a small crowd was seated in a dimly lit conference room, awaiting an art performance that the building's owner, Stonehenge Properties, had promised. "They just like to do things for the community," a plaid-wearing man told us as he poured sparkling wine.
The evening's entertainment was Brooklyn-based artist David Jon Kassan, whose performances involve painting in public—on an iPad. After working in oil for 20 years, Mr. Kassan converted to digital painting a year ago, following artists like David Hockney and Jorge Colombo, who have also made that leap. He has gained some notice: a YouTube time-lapse video that he produced, showing him painting on his iPad, has received 1.3 million hits since it was posted in June 2010.
Two monitors had been set up on opposite ends of the room, magnifying the brushstrokes that Mr. Kassan applied with his finger as he worked to capture his subject, a somber young blonde woman who sat unflinchingly in front of his device. Kassan stabalized his iPad on a large easel, its proportions comically dominating those of his petite digital canvas.
Seated in front of this setup, Mr. Kassan worked for about an hour, creating a chunky Impressionist portrait. It looked as if real, painted brushstrokes had shaded the subject's digital forehead. He frequently switched digital brush sizes and meticulously layered colors, as if he were painting with oils.
"Everything is a process," he explained to the audience while adjusting his thick-framed rectangular glasses. "In a couple of hours I hope to get something better." The crowd sat patiently, watching as Mr. Kassan's fingers stroked the glass screen. Meanwhile, a waspish singer, Jasmine Commerce, filled the room with woeful tunes. After she finished, Mr. Kassan called out to her. "Do you know how to play 'Scar Tissue' by the Red Hot Chili Peppers?" he asked. She did not, and iTunes, piped in from another iPad, took over.
Conveniently, Uwe Maurer, the director of the ArtRage Studio application that the artist uses, was on hand, holding a booklet covered in Chinese characters and decorated with a digital watercolor of a purple dragon. "There is a learning curve that even children can grasp," he told us. The picture, he explained, had been painted by a seven-year-old student in Shanghai using ArtRage.
Could iPad oils really be the future of art? Mr. Kassan seemed to think so, and has apparently thought through the logistics of selling digital art: he deletes each file from his iPad after making a sale, ensuring that each customer walks away with an original work.
"With traditional painting, it's almost like there are no rules," he told the audience. "It's intuitive." Several audience members nodded their heads in agreement. "We need to make this new medium as intuitive as the old." He returned to work.