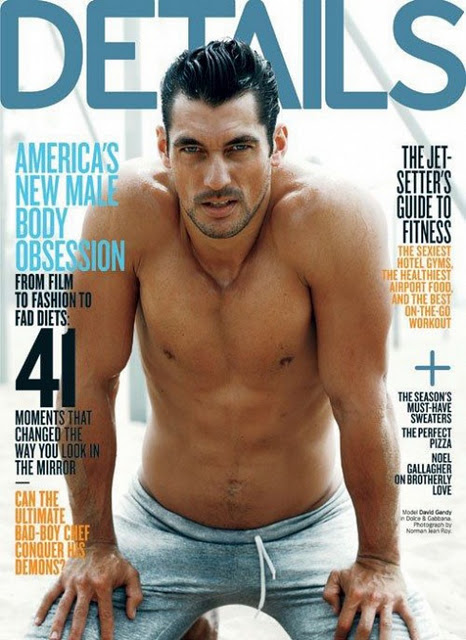 Tired of the fluffy celebrity profiles clogging up your favorite magazines?
If the new Details is any indication, the celebrity obsession could finally be waning. So could the idea that there needs to be content inside the magazine that somehow justifies the cover choice.
The November Details features the British model David Gandy—and his impressive abs, and shoulders, and stubble—on the cover, but doesn't bore readers with a Q.&.A or a profile. (What would we ask him, anyway?) Better still, he doesn't even appear in a fashion layout, because—let's face it—it would be a crime to cover him up.
It's the "male body image issue," and Mr. Gandy's speaks for itself. You don't look like this, it seems to say. Maybe Details can help …
In a further celebration of Mr. Gandy's torso, he appears on the contributor's page in the front of the book, alongside photographers and writers. His bio states: "Gandy was the model for Dolce & Gabbana's Light Blue campaign and writes an online column for British Vogue." Conveniently, D&G Light Blue is an advertiser in the very same issue, and Mr. Gandy is wearing D&G sweatpants in his cover picture. You can tell because it says so in a helpful caption … on the cover.
But for all Details doesn't tell say about Mr. Gandy, it has plenty to teach us about how we, as a culture, became so obsessed with his taut, well-muscled abdomen. The magazine's 41-point timeline points a finger at Calvin Klein's underwear ads, Ben Silverman's The Biggest Loser, Anthony Weiner's sexts and David Barton's gyms, among others.