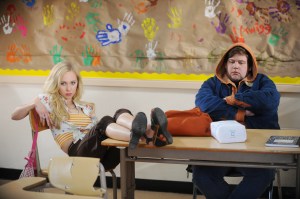 The title character in Dirty Girl must have been written for Madonna. The movie is a randy romp about a road trip between a bottle blonde bimbo and a gay, overweight blob that heads for a brick wall early and stays there. Trashy, teenaged Danielle (Juno Temple) is a mess. Dressed in striped, low-cut, middy tops, killer hot pants and boots, with too much mascara and a permanent scowl only half-hidden behind huge pink-tint sunglasses, her schoolmates scoff at her behind her back, labeling her the campus slut. Easily distracted from everything but boys, slovenly about homework and indifferent to the town's conventional ideas of morality, she's a misfit in Norman, Okla., "back in the day."
Forced into a remedial education program for disciplinary purposes, Danielle is mortified to be forcibly paired with an outcast blob named Clarke (Jeremy Dozier), a not-so-latent homosexual who is always being threatened with military school by his strict, bewildered parents (Mary Steenburgen and Dwight Yoakam). Danielle's stepmother (Milla Jovovich) is an equally louche underachiever and reformed tramp who has become a born-again religious nut. Worse yet, she's engaged to a loopy Mormon preacher (William H. Macy) who is determined to rehabilitate them both. Clearly, it is time to run away from home. "If you're not careful you're gonna end up an overweight homo with nobody to love you but a gerbil named Bruce," says Danielle. Desperate to escape, the class dirty girl and the class closet case (every school has at least one of each) hit the highway in search of Danielle's real father, hoping to find, love, family and acceptance.
After a meandering start, the movie gets even duller once this odd couple forges a reluctant friendship and heads cross-country, learning more about the ultimate value of sharing. On their way to California, they pick up a male stripper hitchhiking his way to Vegas and Clarke loses his virginity before their stolen car breaks down. I forgot to mention their traveling companion is a flour sack with a face painted on, which they pretend is their baby Joan (named after Joan Jett and Joan Crawford). I guess it's supposed to be a touching look at marginalized characters looking for a reason to keep going in a society that hates them, but the lame direction by Abe Sylvia seems less interested in exploring these pathetic Dogpatch stereotypes than in making fun of them. Is the regrettable sight of Dwight Yoakam masturbating on his Cadillac in an unnecessary car wash sequence supposed to be even funnier than the fat boy doing a strip tease drenched in water in front of a Confederate flag? To ensure a happy ending, a ludicrously sentimental ending has been tacked on that is not remotely convincing. Dirty Girl is a bad movie with no insights that is broadly drawn and genuinely plagued by filthy dialogue. You don't laugh. You just wince, and wonder how the whole thing ever got financed.
rreed@observer.com
DIRTY GIRL
Running Time 90 minutes
Written and Directed by Abe Sylvia
Starring Juno Temple, Jeremy Dozier and Milla Jovovich
2/4