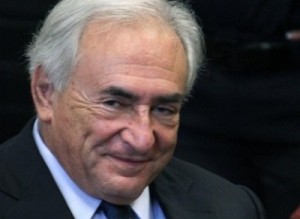 He did it—or didn't do it—again. Former IMF chief, French presidential would-be, and well-established womanizer Dominique Strauss-Kahn's latest set of charges—an accusation that he raped French journalist Tristane Banon—have been dropped by French prosecutors. Why?
Strauss-Kahn admitted to "sexual aggression" against Tristane Banon at the time, but a three-year statute of limitations applies in the case, the Paris prosecutor's office said in a statement Thursday.
So, Dominique Strauss-Kahn—who admitted to attempting to sexually assault Tristane Banon during an interview for her book in 2003—has escape the short-arm of the law yet again. Yes, he admitted to it:
Mr. Strauss-Kahn admitted during questioning that he tried to kiss Ms. Banon without her consent, a judicial official told the Associated Press. The official spoke on condition of anonymity because the questioning is private.
Mr. Strauss-Kahn most recently had charges against him dropped by the Manhattan D.A.'s office when their case—over an alleged incident in May in which he was accused of sexually assaulting a hotel maid—fell apart due to what they felt were inconsistencies in the accuser's testimony.
He has since filed a slander case against Ms. Banon, who has yet to press charges in a civil court for the incident against Mr. Strauss-Kahn. Nafissatou Diallo—his accuser in Manhattan—still has a civil case pending against Mr. Strauss-Kahn in America.
fkamer@observer.com |@weareyourfek