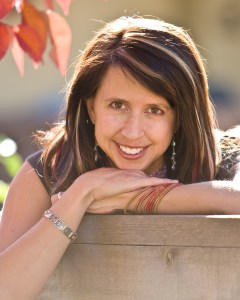 Last week the National Book Award finalists were announced. In every category, five books were named. Then, a day after the first announcement, a sixth book was named in the Young People's Literature category. The National Book Foundation explained that a book that was supposed to be a named finalist, Chime, by Franny Billingsley, had not been included but would now be added. Although the foundation  made no public statement to clarify the origins of its mistake, it became immediately apparent to onlookers that Chime shared a vowel sound with one of the nominees, Shine, by Lauren Myracle. Speculation that the books had been confused was rampant, but the National Book Foundation did not confirm it — that is, until today.
Today Ms. Myracle revealed what happened in a statement issued through her publisher, Amulet.
"I was over the moon last week after receiving the call telling me that Shine was a finalist for the award," said Ms. Myracle . "I was later informed that Shine had been included in error, but would remain on the list based on its merits. However, on Friday I was asked to withdraw by the National Book Foundation to preserve the integrity of the award and the judges' work, and I have agreed to do so."
As compensation, the National Book Foundation will be donating $5,000 to the Matthew Shepard Foundation (Ms. Myracle's book is about a hate crime.)
"I was also deeply moved that in recognizing Shine, the NBF was giving voice to the thousands of disenfranchised youth in America—particularly gay youth—who face massive discrimination and intimidation every day. So that something positive may come of their error, I am pleased that the NBF has agreed to donate $5,000 to the Matthew Shepard Foundation," she said in her statement.
The National Book Foundation has posted its own apology on their web site: "The National Book Foundation regrets that an error was made in the original announcement of the Finalists for the 2011 National Book Award in Young People's Literature and apologizes for any confusion and hurt it may have caused Lauren Myracle."
So, the finalists — finally — are:
Franny Billingsley, Chime
(Dial Books, an imprint of Penguin Group USA, Inc. )
Debby Dahl Edwardson, My Name Is Not Easy
(Marshall Cavendish)
Thanhha Lai, Inside Out and Back Again
(Harper, an imprint of HarperCollinsPublishers)
Albert Marrin, Flesh and Blood So Cheap: The Triangle Fire and Its Legacy
(Alfred A. Knopf, an imprint of Random House Children's Books)
Gary D. Schmidt, Okay for Now
(Clarion Books, an imprint of Houghton Mifflin Harcourt)