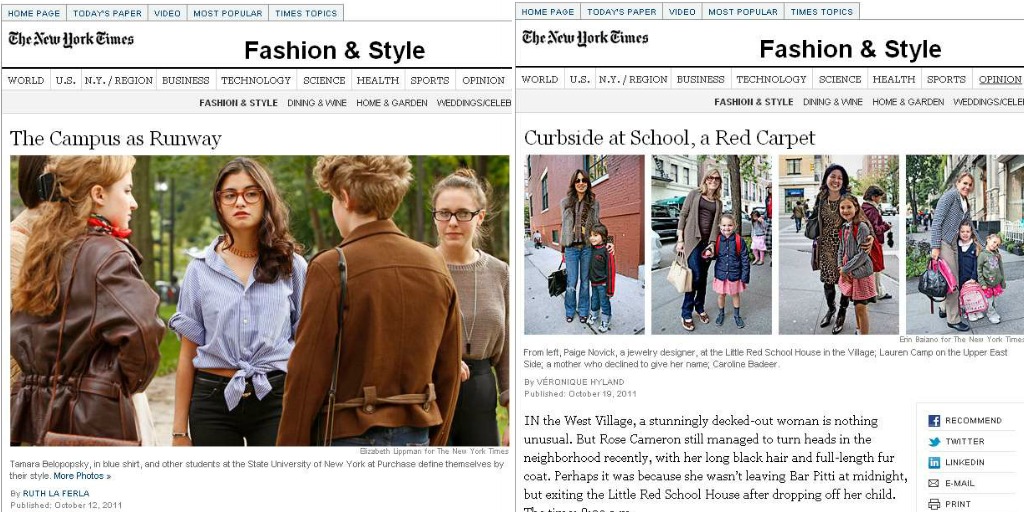 Every editor in New York knows the refrain: "three's a trend." But how many trend pieces does it take to christen a new genre? We couldn't help but notice that a "small but growing" group of stories in The New York Times's Thursday Styles section reveal a curious editorial fascination with the intersection of fashion and education.
Last week the Times reported that the lines of parents who wait all of an afternoon for their pampered dumplings to emerge from Manhattan elementary schools had become a forum for see-and-be-seen ensembles as good as any gala. In "Curbside at School, a Red Carpet," Veronique Hyland wrote that moms who dress up to drop off, are becoming, "if not exactly the norm, far more common"—get this—"despite the faltering economy."
Ms. Hyland's  story came only days after Ruth LaFerla's hard-hitting investigative report, "The Campus as Runway," where we learned that fashion blogs like Style.com have democratized high fashion, giving rise to a "small but self-aware and increasingly vocal contingent of college women who dress to impress."
Rather like the Times Style section itself, the Columbia clothes horses Ms. LaFerla trotted out as her examples are oblivious to the class implications of dressing up for the library while their classmates protest the exorbitant cost of higher education and wealth inequality downtown. Some happily confess to spending more than $1,000 a term on clothes.
Then there's the Times school-and-style desk's vilification of sweatpants, the ultimate signifier of slovenliness: "I'm not a sweats-and-T-shirt kind of person," said a freshman at Columbia University.  "Even at the library, I'll see people in heels. There's a lot of energy in that."
The couture moms, however, treat sweatpants as a wicked pleasure, a sort of mamma's little helper for the post-Valium era. "I see a lot of moms that go 'fancy' to drop off and then they go change into sweatpants," an Upper East Side mom confided to the Times.
The school-age daughter of one drop-off maven acidly observed that her mother was the only mom in the Upper East Side school line without red bottoms on her shoes, the signature of $800-a-pair Christian Louboutins. According to mom, her daughter Sadie is "a hawk with all things fashion-y," but it may be some time before the student becomes the master: that Sunday, Guy Trebay wrote that the ostentatious Louboutin heel is actually out, in favor of the recession-friendly design restraint (if not price point) of Manolo Blahniks.
No cause for worry! If the Times meta-trend holds true, Sadie will have plenty of opportunities to provide redemptive quotes: "Guidance Counselor as Stylist?" "Home Ec as Haute Couture Atelier?" "Picture Day as Fashion Photo Shoot?"