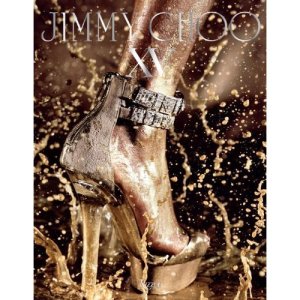 The Observer had our umbrella out as we walked down Chrystie street last night, searching desperately for the Lehmann Maupin Gallery. Nearly walking past the entrance, we headed into the dimly lit space were cocktails were already being served. Guests had begun to gather for an intimate dinner party celebrating the launch of Jimmy Choo ICONS collection and accompanying coffee table book.
The room soon filled with champagne sipping socialites and celebrities who had gathered to support Jimmy Choo and its founder, Tamara Mellon. Starlets du jour Leighton Meester and Lake Bell chatted throughout the entire cocktail hour in a corner by themselves, while Ann Dexter-Jones gregariously greeted friends around the room.  Cynthia Rowley, Arden Wohl, Bronson Van Wyck, Karlie Kloss and Anh Duong also made the rounds, casually conversing in the relaxed atmosphere.
Several images from the ICONS book were displayed throughout the gallery. Guests appraised the shots, all taken by mysteriously absent Nan Goldin, which artfully advertized the new capsule collection. W magazine editor Stefano Tonchi, who co-hosted the event, explained the important confluence of fine art and fashion. He maintained the importance of "using photographers, fashion photographers, and pushing them into creating art projects, something that is not just about showing product," and conversely "challenging…artists to actually work with product." The resulting advertorial artwork, Mr. Tonchi explained, challenges both artists and the fashion industry to reach new creative heights.
A cameraman circulated the space filming the event with a blindingly bright back light.   Asking guests to model their own shoes, some attendees gladly kicked up their heels and paraded around. Ms. Meester and Ms. Bell even worked out an impromptu dance routine showcasing their impossibly high sandals. Less camera-ready guests balked when asked to brandish their feet. Perhaps fearing their cankles would be exposed, they refused or offering only shy halfhearted poses for the cameras.
The Observer spoke to Ms. Mellon about ICONS, and her new charity project The Jimmy Choo Foundation. Wearing an airy black jumpsuit paired with her favorite footwear from the ICON collection, Ms. Mellon described working with Ms. Goldin on the project. "Nan has the ability to capture a very special moment in time. And her photographs are quite raw which I wanted," she explained. "I didn't want anything too glossy for this," Ms. Mellon added.
Eager to discuss her foundation which will receive the proceeds from the ICONS book, Ms. Mellon explained the importance of philanthropic work. "You know when your company gets to a certain size its important to give back," she explained. The organization champions causes which have long been closer to her heart. "My focus is really going to be to work on women's rights. So whether that's gender discrimination, unequal pay, sex slave trade, we'll be dealing with all those issues," she said with manifest enthusiasm. Ms. Mellon has vowed to continue her crusade for women's issues, although she will undoubtedly eschew traditional battle attire in favor of bejeweled five inch spike heels.
After empty flutes were passed off to waiters, guests walked into a back room. With soaring ceilings and over a hundred eclectic mirrors affixed the walls, the indulgent scene seemed quite fitting for the evening. Two long tables had been arranged with abundant scarlet dahlias on silver trays as centerpieces. "That's a fucking nice table," one guest gawked as he entered the dining area.
The group filtered in, struggling to find their seats in the candlelight. Over the next two hours, an extravagant dinner was served. Guests threw back glasses of white wine, appearing perfectly giddy by the end of the evening. Ms. Mellon seemed to thoroughly enjoy herself, chatting with Interview's former editor in chief Ingrid Sischy throughout the courses. As expected, guests hardly touched their desserts. Ms. Mellon opted for a cigarette instead, smoking a la francaise as she laughed at one of Ms. Sischy's stories.
With a flurry of kisses and goodbye embraces, the crowd began to leave around 10:30. A phalanx of town cars and hired Escalades were waiting outside to drive their respective passengers home. We retrieved our umbrella, bracing ourselves once again for the autumnal rain.