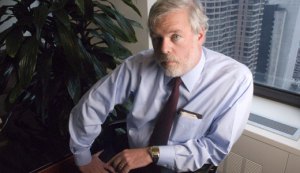 As has been rumored since talk began that Chris Ward would be departing the Port Authority some time this year, the Cuomo administration is poised to announce Patrick Foye will be taking over the bi-state agency as executive director, The Journal reports.
Mr. Foye's most recent time in government was as downstate director of the Empire State Development Corporation, to which he was appointed by Governor Eliot Spitzer. He followed the governor out the door, and spent the past few years working for a Long Island law firm, before joining the Cuomo administration as an adviser on economic development.
The move should brighten the hopes of some who feared a return to an earlier era, when the agency was run by political appointees with limited development experience. During his time at ESDC, Mr. Foye oversaw projects ranging from Moynihan Station to the Javits Center expansion, though as The Observer noted at the time of Mr. Foye's departure, he "in many ways struggled to get projects off the ground in his first year." (For more on the man, we recommend reading that great profile by Matt Schuerman.)
Mr. Foye had been in favor of scaling back some of the grandiose projects of the Pataki era, not necessarily a bad thing, but a contrast from the pro-infrastructure Mr. Ward. "We want to be able to convince ourselves and the governor and the Legislature and the taxpayers that we are getting the highest return on the resources that are made available to us," Mr. Foye told The Observer in a 2007 interview, a few months after taking over.
Both governors Cuomo and Christie have brought a bean-counting sensibility to public works, so Mr. Foye, who used to be a member of the state's Conservative Party, could be just the man for the job.
Update: And The Times' Michael Barbaro tweets that James Rubin, formerly of Bloomberg View and before that the State Deparment, is, at the behest of Governor Cuomo, joining the board of the Port and advising the administration on economic development matters.
Update 2: In an email, Vishaan Chakrabarti, who used to head Moynihan development for Vornado and Related, gives a vote of confidence to Mr. Foye: "I have worked with Pat for years and know his tireless dedication to the New York region. I look forward to our continued work together to build Moynihan Station and the other critical infrastructure we will need to remain globally competitive in the coming decades."
Update 3: Transportation Alternatives executive director Paul Steely White released the following statement after Governor Cuomo made the announcement official, which basically called on Mr. Foye to follow in Mr. Ward's shoes: "We hope Patrick Foye continues his predecessor's record of accomplishments. Chris Ward's work evidenced a strong commitment to the New York City metropolitan area, our environment and our quality of life. Investing in infrastructure is the foundation of the region's economy and an engine for job creation. As a member of the MTA's board, Patrick Foye knows first-hand the perils underfunded infrastructure present to the metropolitan area."