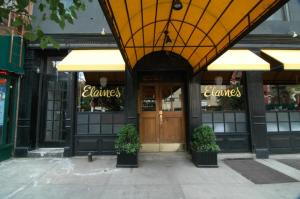 It became clear that without Elaine Kaufman, there was no Elaine's. Will the Upper East Side be any worse off, then, if the buildings that used to be the restaurant's home are gone, too?
The famed eatery where everyone goes tried to hang on without its outsized owner and guiding spirit, but it never was the same without her. Elaine's closed five months after Kaufman's passing last December.
To help cover the restaurants debts, memorabilia was auctioned off, and the two Second Avenue buildings that housed the institution were put on the market for $9.5 million. The property has found a buyer, and according to one of the brokers involved in the deal, is considering redeveloping the buildings at some point.
"I think down the road, it's an investment in a development site," Anita Grossberg of Prudential Douglas Elliman told The Observer. "But until it closes, who knows?"
Developers have had interest in the site almost since it hit the market this summer.
Ms. Grossberg, who had the listing with fellow Elliman brokers Vincent Santoro and Michael Lorber, said the buyer paid below the asking price, though she would not say how much, and she said it was a very serious offer. "They did got hard on the contract," she said. "The money is in."
According to PropertyShark, the two five-story tenements at 1703-1705 Second Avenue contain roughly 15,000 square feet, though zoning allows for an additional 21,000 square feet of development. The deal was first revealed in the weekly Olshan Luxury Report, a rundown of the signed contracts for properties over $4 million.