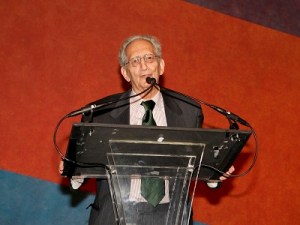 The artist Jenny Holzer, in head-to-toe black, was doing her best model pose at a photo shoot with photographer Todd Eberle. They were tucked away from the crowd that was beginning to fill Cipriani in Midtown for the National Arts Awards. Ms. Holzer, once a part of the scrappy Colab art collective—the people behind the celebrated "Times Square Show" that co-opted an old massage parlor in 1980—was being honored for outstanding contributions to the arts.
Asked if anything has changed for her in the decades she's been making art she said, "I'm slower when I sulk around now. The city's more comfortable than it was, but maybe that's changing."
"What do you think of the protests popping up around the city?" Gallerist asked Ms. Holzer.
"Well," she said. "Aren't you uneasy too? We're all uneasy." She flashed a look around the fancy banquet hall. "Some more visibly so."
Elsewhere Anthony Haden-Guest and Jeff Koons were talking about Iggy Pop. Mr. Haden-Guest discussed seeing him roll around on his back in a pile of broken glass. Mr. Koons was describing to Gallerist an image of the singer, shirtless and screaming into a microphone.
"It's like an aerial view of him," Mr. Koons said.
"It's like you've got a TV eye on him," Gallerist offered with a nudge to the shoulder.
Mr. Koons did not find that very funny.
We mentioned to Mr. Koons that we had read a 4,000-word profile on him in the Guardian earlier that day. He said he didn't know anything about that.
We hit the bar.
Later, as we took a seat for dinner and Robert Lynch, the president of Americans for the Arts, was giving an opening speech in front of a massive Sol LeWitt wall drawing, waiters came out to serve wine.
"How old are you?" a waiter asked Gallerist.
We told him. He asked us to show some ID. It was not what you would call "our night." With a scowl, we produced our wallet.
"There will come a time when you'll be sad that they don't ID you," the woman next to us said. "You're young and handsome."
Well, sure.
We had white wine.
The honorees were awarded small statues shaped like Mr. Koons's Golden Bunny piece. They all kept their speeches short and sweet. Gabourey Sidibe, the actress from the film Precious who received the young artist award, said "I never realized how cool I was." She began to cry.
"Without my manager I'd stay in bed and watch Law and Order all day."
She thanked her mother, still in tears.
Everyone—Ms. Holzer, Beverly Taylor Sorenson (who received an award for philanthropy), Ms. Sidibe—got a standing ovation. No one, however, stood for Wells Fargo, recipient of the corporate citizenship in the arts award.
Frank Stella was the night's biggest honoree. He received the lifetime achievement award. He entered the stage, standing in front of the giant Sol LeWitt and accepted his Jeff Koons bunny.
"It says somewhere in the script that I can only talk for one minute, which doesn't seem likely," Mr. Stella said. "I'm going to try valiantly. I appreciate the flattery and a lot of nice things that a lot of nice people said about me. But mainly, it was a privilege to be able to work with them and to learn from them and to try to reach their level. So it just comes down to what everybody else does."
"If you're lucky enough to have a lifetime," he said, "you keep trying to achieve something."
He was finished in under a minute and got a big applause.