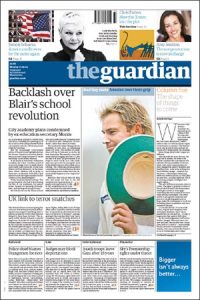 Earlier this year, the Guardian invited budding young arts critics, aged 18 and under, to submit writing for its annual young critics contest, now in its fourth edition. Now the winners are in, and many of the pieces are a joy to read. Winners were picked by age (14 to 18 and under-14) and category (theater, music, etc.), and each awardee took home a £25 ($39) gift certificate for a bookstore.
Top honors went to a 12-year-old visual art critic named Freddie Holker, who took a look at the recent Lucian Freud show at the Metropolitan Museum of Art in New York, meaning that he will get to pen a piece for the paper's G2 feature section later this year.
Check out the opening lines of Mr. Holker's piece:
"Disgusting. That's what I'm thinking; that's my gut instinct. It's reminiscent of the swimming-pool changing rooms back at school, where I'm scared to look at anything in case it offends someone."
Guardian critic Adrian Searle (who should resume his critical podcasts, which were once the best–albeit one of the only– examples in the game), wrote of the piece: "The writing is tight, the descriptions vivid."
Other critics took a look at the Met's Alexander McQueen show, the music of Bon Iver, the Coventry railway station and a new recording of Shostakovich's eight and ninth string quartets. Read them all here.